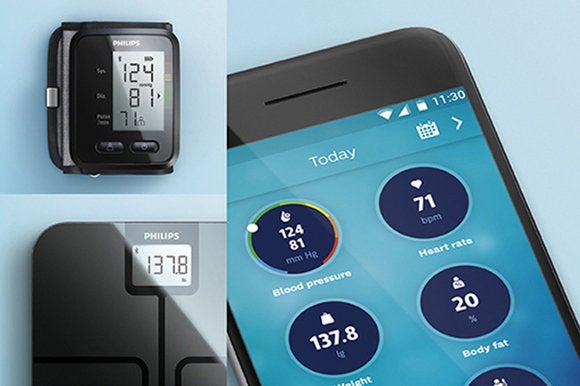 Forget about fashion aesthetics and the squishy parameters of "fitness goals." Today Philips enters the U.S. connected health market with five new gadgets, and while the devices aren't particularly innovative—or even pretty—they do have one feature that less trend-conscious consumers may care about: recognition from the FDA.
The suite include a health watch ($250), a body analysis scale ($100), an ear thermometer ($60), an upper arm blood pressure monitor ($100) and a wrist blood pressure monitor ($90). Each connects to a central mobile app for tracking your bio signals and activity data—all in the service of preventing and managing diabetes, heart disease, and all the other nasty conditions that send people to an early grave.
"Philips is not in the world of fitness," said Eline de Graaf, Director for Philips Personal Health Solutions. "That's not our mission, and as a healthcare company, we don't think that's where we can add value. We're in the connected health space, and target consumer who are at risk of chronic diseases."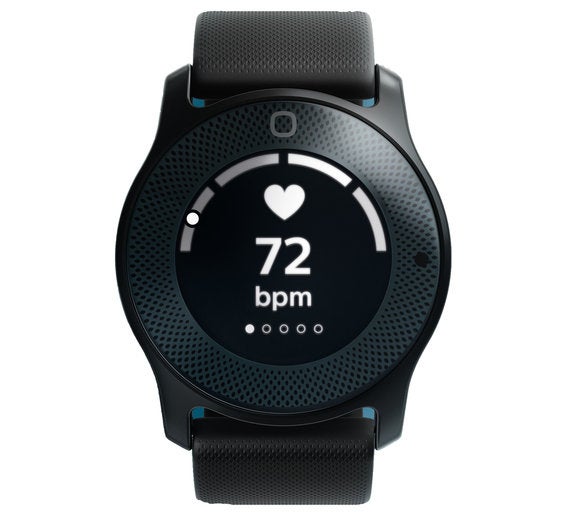 Why this matters: Based on specs and features alone, none of the new devices is especially remarkable. But by going the extra step and listing these products with the FDA, Philips can potentially speak to a new market of consumers: less tech-sophisticated people who might be getting their gadget advice from doctors and medical groups, and not necessarily hipsters wearing Fitbits at the gym.
Indeed, the FDA listing means that all clinical validation and testing is recorded with the government agency. This might give skeptical, at-risk consumers just a bit more reassurance in the efficacy of the devices. The FDA listing also open a wider path for the devices to be recommended by doctors and even employers, de Graaf says.
"When you begin talking with health systems and physician groups, that medical-device part of the equation becomes more important—knowing that it's been designed with the right clinical validation and protocols in place,"  de Graaf says.
The watch you buy for dad, not yourself
If you have any familiarity with connected health and fitness devices, you probably won't be impressed by Philips new bag of tricks. In terms of basic features, the two blood-pressure monitors don't do anything more than similar models I've seen. Philips' body analysis scale, meanwhile, looks remarkably similar to scales from Fitbit and Withings (and the new Withings Body Cardio seems to do even more).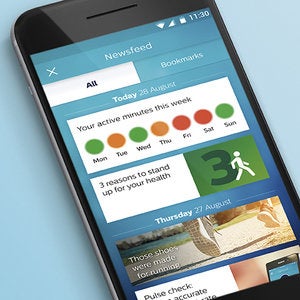 Then there's the new Philips health watch, which looks about as sexy as a medic alert bracelet. It's also rather feature-limited, at least compared to truly smart watches that offer third-party app support. The Philips watch includes a stark black and white display covered in Gorilla Glass; auto-tracking for sleep, running, walking and biking; and Philips' own proprietary optical heart rate sensor.
Philips' sensor delivers continuous, 24-7 heart rate data, including resting heart rate, heart rate during exercise, and heart rate during recovery. This is great data, and it trumps the Apple Watch's heart rate story, as Apple's device must be removed at night. But wouldn't most consumers want a much more beautiful, feature-rich gadget like the Apple Watch, or one of the many Android Wear watches that records heart rate and steps, and also delivers a universe of apps?
Well, Philips is clearly going after consumers who might never even consider a health-focused wearable until it's recommended by their doctor. And because all of Philips' gadgets hook into a single app, the user can slip into a connected universe where all of his or her data appears on the same dashboard. Heart rate data mingles with weight data, which mingles with step data, sleep data, blood pressure data and even body temperature data. It's like reading one's own medical chart—albeit simplified for lay people and customized for one's specific health goals.
That's not necessarily what I need, but it's exactly the kind of experience my 87-year-old dad might tolerate. He's looking for easy-to-read signals that speak to his specific medical conditions. He's not interested in any flair.
["source-gsmarena"]