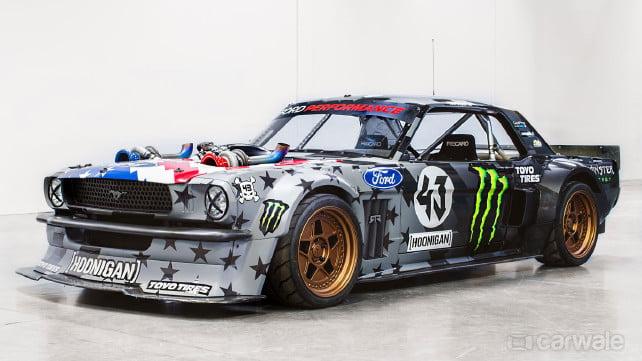 We've all seen Ken Block go berserk in his gymkhana videos doing some crazy drifts. He's also got some crazy cars in his arsenal, and nothing is crazier than the Ford Mustang based Hoonicorn. For his next upcoming gymkhana video, the team at Hoonigan decided to step up the game further by adding more horsepower to the already over-powered Hoonicorn.
Now christened the Hoonicorn V2, Block's updated Mustang now features a fully custom twin-turbo setup that's force-feeding 21 pounds of boost into a 6.7 liter methanol motor. The end result? 1,400 horsepower at the crank that is then sent to all four wheels in an effort to vaporize Block's Toyo tires instantly.
In addition to updating the engine setup in the Hoonicorn, Block and Hoonigan also updated the livery of the vehicle for Block's all-new video project. Featuring an adaptation of the ever-popular "stars and stripes" theme that originally debuted on Block's MkII Ford Escort that's been mixed with a reflective pattern (similar to that seen on Block's Ford Fiesta RX43 in Gymkhana EIGHT) on top of a gray-to-black fade of the base color from nose to tail.
Block is clearly very satisfied with the end result and says that the car is pretty much the scariest thing he has driven. We can't wait to see this monster in action in the upcoming video
Tags:
Ford Mustang,Hoonicorn