Electric vehicle sales are growing considerably across the planet. Fighting for a stronger play in this space is Kia with its Soul EV. Up until last year, the Soul EV had sold a cumulative 40,000 units around the world, the larger part of its numbers coming in from the US and European markets. Its an insignificant number in comparison to what Tesla sells annually, but given the way the new Soul EV has turned out, Kia have a strong contender to raise their stakes in EV dominant markets.
I've driven electric vehicles before, but most of those experiences were in closed environments. I've never ventured outside of a test track into the real world to get a sense of what an electric vehicle must feel like. The closest I've come to experiencing battery propulsion on the streets is a hybrid vehicle, and that lasts for barely a couple of minutes before an internal combustion engine take over. I haven't driven for nearly 250 kilometres wading through dense traffic or blazing past other cars on the expressway, half expecting to see arcs of electricity reaching out like it does when Barry Allen speeds through the city! And here's the freaky thing, I wasn't perturbed by range anxiety in the Kia Soul EV, not in the least. Though, I did look down at the range indicator once or twice to check how far I could go at the pace I was maintaining. No, what bothered me the most was the damn tyre noise!
But enough of that, the Kia Soul EV is vying to be one of the largest selling EVs in the world despite its slightly odd styling. Kia are still lagging fairly behind Tesla, Nissan, Chevrolet, VW, BMW, and several others but given their larger global presence, that status could change soon. Especially with the all-new 2019 Soul EV which is significantly improved over the previous generation car. Here is why it is a hard to ignore proposition.
Powertrain
The new Soul has got a better battery with better power management systems. The battery is a liquid-cooled lithium ion polymer 64 kWh battery expected to need less daily charging. With Combined Charging System (CCS) DC fast-charge as standard equipment, it is capable of recovering 80 per cent charge in just an hour and 15 minutes. The Soul EV offers 4 driving modes available from an electric motor that outputs the equivalent of 204PS and 395Nm (available from 0-3,600rpm) of max torque. Eco, Normal, Sport and Eco+, each of these modes adjusts power supply to the traction motor, regenerative braking, air-conditioning and heating settings. It also sets a speed limit to help manage operating efficiencies. Paddle shifters behind the steering wheel don't shift gears, they set the effectiveness of the regenerative braking system (between 3 stages) thus determining how much kinetic energy is recovered. You can physically sense the effectiveness of each mode when you release the throttle pedal and freewheel the car, wherein retardation is more or less aggressive depending on the setting selected. Driving this car is kind of reading through my higher secondary physics texts, where all the laws of physics are manifest in myriad ways. I can only imagine conversations in the future migrating from lift-off oversteer behavior, to lift off kinetic energisation!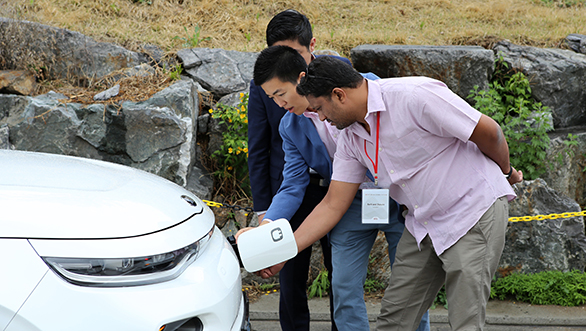 The Soul is however one of the coolest cars I've driven in a very long time. It feels no different from a conventional car and therein lies its beauty. You'd appreciate this car even in IC engine guise, but the electric motor just advances matters far ahead in time! I'm however at a loss to articulate the driving experience and feel of this car, and I foresee this challenge in the future as well. I can tell you it pulls cleanly and strongly in sport mode, hitting its max speed of 160kmph very easily, and in fact the Soul EV feels like it would go faster still if not for the electronic barriers. 0-100kmph is covered in a scorching 7.6 seconds, almost 3 seconds quicker than the previous generation car. The Soul EV is the perfect model of the point-and-shoot car, making eerily quiet but instantly rapid progress whenever you want to overtake traffic.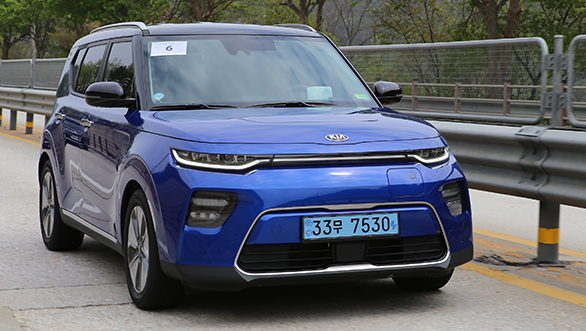 So, yes, you can go fast and achieve respectable top speeds, but there is a lack of emotion to the whole experience that leaves you feeling a bit vacant. It's almost as if you were sitting on a rather fancy chair and nothing began propelling you to triple digit speeds. And after the first couple of times of fiddling with the driving modes and playing with the throttle, the initial excitement kind of wears thin, you settle down and simply let the Soul EV be what it ideally is, a next generation commuter of the highest order! And this is where it shines bright. Slip the Soul EV into Eco+ mode and you get a class leading range of 450 kilometres on a full charge. Driving though the Korean countryside Eco+ mode sees the charge indicator deplete very, very slowly. This is also because regenerative braking helps extend the usability factor by charging the battery. Move into Sport mode and though the battery discharges quickly, it never leaves you feeling anxious about getting to your destination. Even after 250 kilometres spent driving the Soul EV, we got back to the hotel with almost that much mileage still left in reserve.
Dynamics
The new Soul EV now comes with independent multilink rear suspension and every end is retuned to improve both handling and ride quality. The latter I can safely say is exemplary, though the handling is a bit understeery, which I can only attribute to the low rolling resistance 215/55 section 17″ tyres. The Soul EV is not going to carve corners but then it never lacks confidence or feels under-tyred in any condition. What I did like is that you can play around with the regenerative braking and if set to sport mode, the one pedal action is something you can derive oodles of fun from! The steering is progressive but there is not much feedback and there is a bit of body roll but at the very edges of the Soul's dynamic abilities.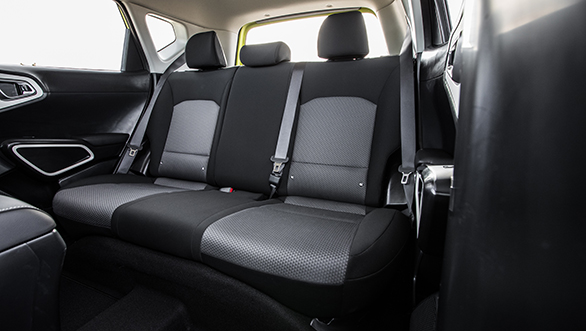 The Kia Soul EV was an eye-opener for me. There is no doubt this is a fantastic vehicle and one that sets the tone for EVs everywhere. It broke down whatever barriers I'd built in my mind and reinforced my belief that EVs don't need to reinvent the wheel, after all you're simply replacing one powertrain for another. A great example to experience what I'm talking about is going to be in the soon to be launched in India Hyundai Kona, which has the same powertrain as the Soul EV. While the Soul EV won't be coming to India any time soon, I have no doubts Kia will certainly evaluate the options very strongly indeed. Pricing and infrastructure will be the two challenges to surmount, but until there is mass adoption, prices aren't going to get any cheaper. As for the latter, we will have to wait and see whether the government or the private sector steps in to build the required infrastructure.
["source=overdrive"]