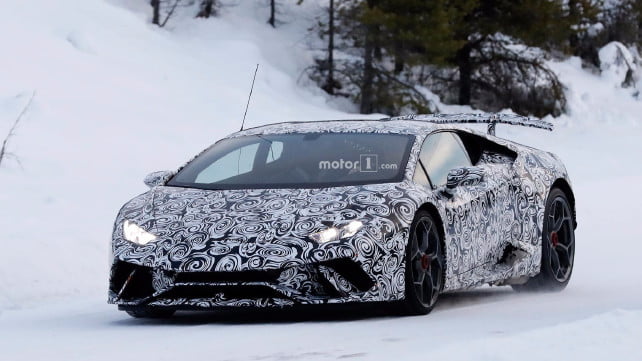 What you see in the picture is Lamborghini's Huracan Superleggera being tested in the Arctic. After the brand tested the sportscar for most of this year at the Nurburgring, it seems obvious that engineers are now analysing the effects of extreme cold weather on the car.
Unlike the test mule that was spotted at the Nurburgring that had fmulti-spoke alloys, this test car uses a new pair of aggressive looking centre-locking wheels that split out further towards the outer end of the rim, and are red at the centre. When compared to the standard model, this Huracán Superleggera seems to have a more angular front nose, the exhaust has moved higher up on the rear bumper, and a large spoiler adorns the tail.
Sources reveal that the Huracán Superleggera may use a reworked version of the 5.2-litre V10 that could make around 650bhp (standard car has 602bhp), and also see a drop in weight by close to 100kg. With these revisions, the new car should be quicker, and a sharper handler thanks to the improved aerodynamics.
Lamborghini could debut the Huracán Superleggera at the 2017 Geneva Motor Show in March, so stay tuned for more information in the months to come.
Tags:
Lamborghini,Huracan,Lamborghini Huracan,Superleggera
source"cnbc"