When Samsung introduced the Gear S3 family of devices at this year's IFA, it definitely took a big and ambitious stem forward in the smartwatch realm. However, the Korean giant decided not to ditch last year's Gear S2 and continue to sell and improve it. Not only is the S2 smaller and will cater to a different audience, it also provides a much cheaper entry point into Samsung's Tizen-powered smartwatch ecosystem.

The company has now released a second Value Pack update for the Gear S2 and Gear S2 Classic and it brings most of the new software features, introduced with the Gear S3.

First up, the entire selection of new stock watchfaces from the Gear S3 is now available on the older wearable as well. Of course, even in its current, admittedly early stage of development, the Tizen Wear ecosystem already has no shortage of watch designs. Still, you can never have too many options.
New input and control schemes from the Gear S3 have been ported as well. The rotating bezel can now be used to act on calls, alarms, timers and alerts. The updated Handwriting mode is included as well – you can scrawl messages on the watch in English, Korean or Chinese one character an a time, without having to wait for the previous one to be recognized. You can also sketch, dictate or send an emoji using the default keyboard.

Some new default apps are making their way onto the Gear S2 as well. This includes the Alti-Barometer app and the Reminders one. Thanks to running Tizen version 2.3.2.1, the wearable now has access to games, like Monster Vampire and Stack too. They are downloadable from the Galaxy Apps store, along with more than 100 other titles.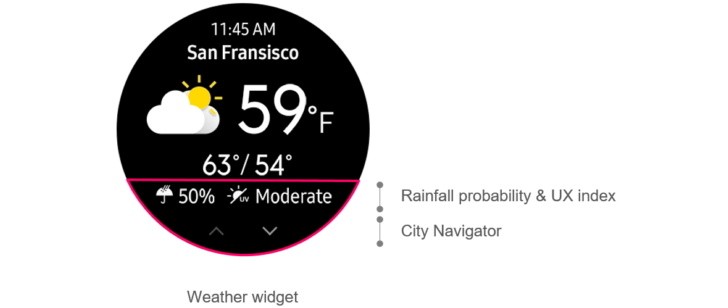 S-Healts has a few new tricks as well. This includes automatic detection for more activities, including, walking, running, cycling, elliptical and more. The wearable can now count gym exercise repetitions. And if you decide to take a break mid-exercise, the smart Auto Pulse detection feature will pause the tracking for you, then resume it automatically as well.

All these news apps bring along their respective widget interfaces as well. This means, Gear S2 users can now enjoy widgets from USA Today, Uber and Yelp The nifty SOS feature from the Gear S3 is also present. It includes location support, so that when you tap the home button quickly three times, your emergency contact can get a Glympse link of your current location.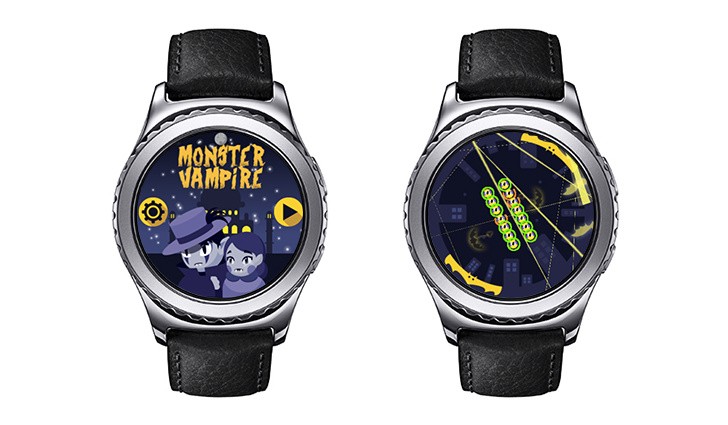 The OTA is live now in a few big markets. It weight only 133MB, which is natural, considering Tizen's lean and slim nature. If your Gear S2 hasn't received it yet, be sure to check the the Gear app over the next couple of weeks.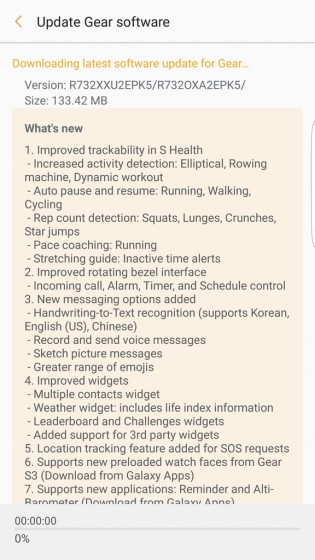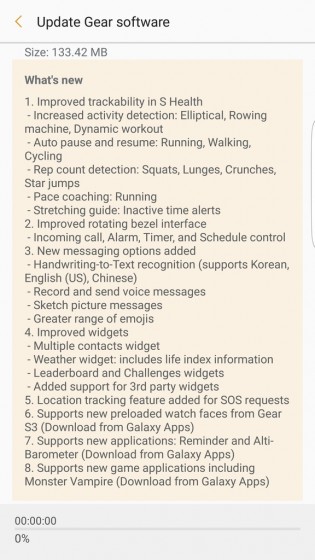 Samsung Gear S2 update notes
Source | Via