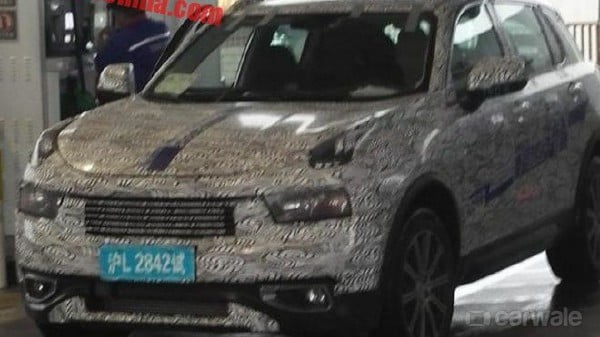 The new Geely-owned car brand Lynk & Co unveiled their first SUV named 01 in October this year. The modern, mid-sized, tech-laden SUV will make its debut in China next year and kick off its global venture into the European and American market by the year 2018. The car looks almost production ready as it was caught doing testing rounds in China under camouflage and is expected to be launched at the 2017 Shanghai Auto Show in April.
Lynk & Co boasts the 01 SUV will have a car-sharing system, unlike any other. The manufacturer claims "you don't need to own a car to have one". The car will have a unique digital key, and a dedicated smartphone app; which would allow the car to be leased, borrowed, shared and serviced as required. With the help of the telemetry provided by Ericsson, the car's servicing, maintenance will be dealt with, it can book for servicing, picked up and dropped wherever required, all of it just at a touch of a button. The 'Concierge' button in the car will also allow the driver to book a hotel reservation, get travel data or get any other required information.
To make it clearer, assume you took the car to your office, you park it up, hit the 'Share' button in your app and set the time you'll be back. Meanwhile, if someone who needs a ride will send an alert to you, you can check their profile and click 'Go Ahead'. The digital key will let them borrow the vehicle for the time being and by the time you return the vehicle will be refuelled and returned back to the place you require it and you'll receive the rental fee from the manufacturer. It works the other way round, so whenever you need a ride, you can have the digital key to helping you rent the vehicle.
Based on the new Volvo-Geely CMA platform, the 01 SUV in the camouflage seems to retain all the features of the launch vehicle. The engine options expected are, either a 1.5-litre three-cylinder with 180bhp, or a 1.5-litre plug-in hybrid with 220bhp, and a four-cylinder 2.0-litre turbo petrol with 240bhp.
Optional extras on the car will include features like an air-quality system that detects pollution and shut the car vents accordingly, a wireless phone charging, semi-automatic parking, power tailgate, LED DRLs and a panoramic sunroof. Safety would include blind spot detection, autonomous emergency braking, forward collision warning and an adaptive cruise control.
When on sale in 2018, the car is expected to be priced quite competitively. The Volvo-backed carmaker targets building 5,00,000 cars a year on a global scale. What needs to be seen is how the world responds to this new vehicle from a new marque.
source"cnbc"