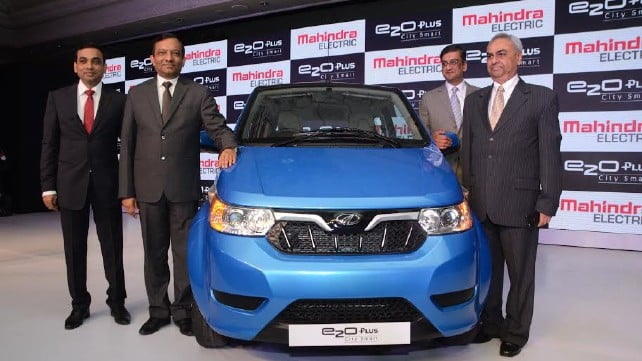 The newly launched e2oPlus from Mahindra, as the name suggests, is now bigger and better than its predecessor. The new model is available in three variants – P4, P6 and P8. The all-electric hatchback from the Indian automaker gets fresh cosmetic upgrades and new technological upgrades. Unlike the older two-door model, the new model comes with four-doors.
Technology:
The new e2oPlus gets 210AH Lithium-ion battery powers 3 Phase AC induction motors to generate 25bhp at 3500 rpm and 70Nm of torque at 1000 rpm. The top-spec P8 variant gets a slightly advanced battery that enables it cover a distance of about 140kms, while the other two variants are capable of covering a distance of about 110kms on a full charge. The P8 does 0 – 100kmph in just about 9.5 seconds, while the P4 and P6 variants take about 14.1 seconds. On a 16 Amp charger, the P4 and P6 takes about six hours, while on a 32 Amp charger it takes about 75 minutes. As for the top-spec P8 variant, it takes about nine hours to charge on a 16 Amp charger, while on a 32 Amp charger it takes about 90 minutes.
Features:
Speaking about features, the new model has REVive feature that offers an additional 5-10km driving range when the battery levels drops below 10 per cent. The function can be activated with a touch of a button on the touch-screen or via the e2oPlus app on the smartphone. Additionally, the app can also be used to control the air conditioning system and lock/unlocking the vehicle. The vehicle gets regenerative braking technology that charges the battery of the vehicle every time the brakes are applied. The new model gets hill assist function for easy driving on inclines. The vehicle also gets the reverse camera function for added convenience.
Interior:
In comparison to the older generation, Mahindra e2oPlus is quite spacious on the inside. The new model offers better legroom, headroom and easy ingress and egress. Moreover, the interior has been redone for freshness and has a pleasant feel. The touchscreen interface on the dashboard is easy to use and it gives out all current vital details to the driver. The vehicle has 10 on-board computers that track around 196 performance and health related parameters to ensure that any possible snag is fixed as soon as it crops up.
Exterior:
The length of the vehicle has been increased by 310mm to 3590mm and the wheelbase is up by 300mm at 2258mm. The exterior of the e2oPlus is available in four interesting shades of coral blue, sparkling wine, arctic silver and solid white. Though more of design elements resemble the older generation, the automaker has revised the front with a familiar Mahindra grille and a revised rear section.
source"gsmarena"