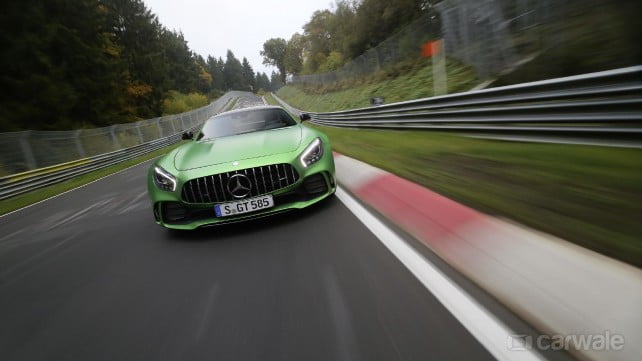 The GT R blasted through the 'Green Hell' going faster than any other road-going rear-wheel drive sportscar
With manufacturers hitting the Nurburgring to test the limits of their cars and prove how fast they go around arguably the toughest track in the world, Mercedes-Benz was at it too. The AMG GT R is pretty much the closest road going racecar that the mental scientists at Affalterbach have conjured up and to prove its credentials they let it loose at the gates of the 'Green Hell'.
Through the Green Hell in just 7:10.9 minutes – the Mercedes-AMG GT R was faster than any other road-going sports car ever tested. The 585bhp "Beast of the Green Hell" more than lived up to its nickname. And this exceptional race track, the Nurburgring, is precisely where the Mercedes-AMG GT R has spent a large proportion of its development time. Numerous innovations and modifications bear witness that the road-going sports car has racing DNA in its blood. The foundations for such exceptional driving dynamics come courtesy of the front mid-engine layout with transaxle, a 585bhp V8 biturbo engine, extensively modified suspension, sophisticated aerodynamics, active rear-axle steering, bespoke tyres and intelligent lightweight design.
The AMG GT R goes up against the likes of the Jaguar F-Type SVR, Audi R8, Porsche 911 Turbo and Aston Martin V12 Vantage but now has a one up on the competition by a
source"cnbc"