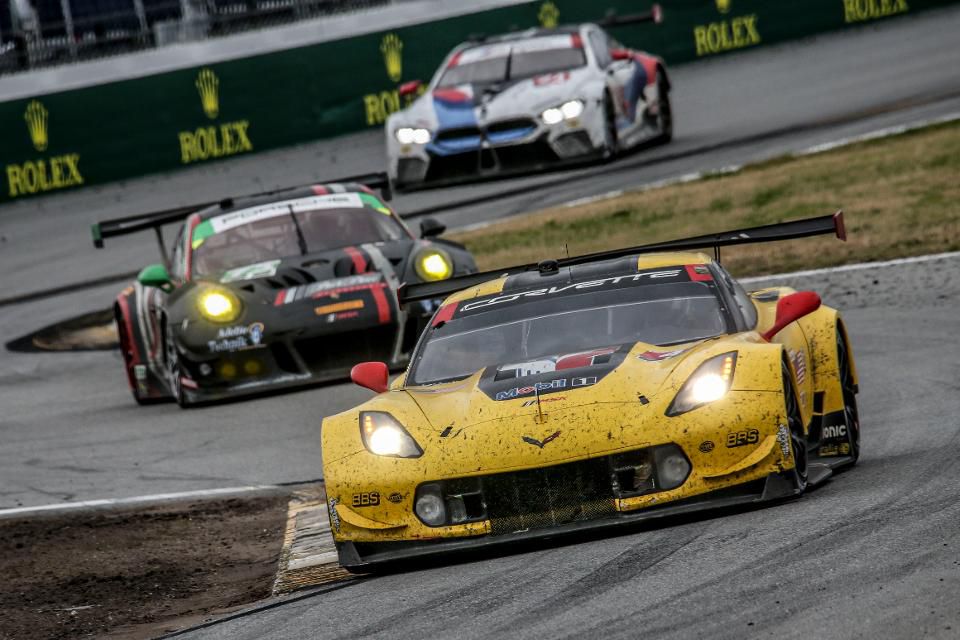 This weekend, NBC will launch an ambitious 1,500 hours of motorsports coverage in 2019 — including 500 hours of NASCAR coverage and 350 hours of IndyCar Series coverage — when it carries the IMSA Rolex 24 at Daytona, a sports-car endurance race, for the first time.
NBC also will be carrying the Indianapolis 500 for the first time on Memorial Day weekend, plus nearly 200 hours of Supercross and Pro Motorcross coverage of motorcycle racing, as well as more coverage of those lusciously cool IMSA sports cars later in the season.
Several other networks carry motorsports events, most notably Fox, which televises the first half of the NASCAR Monster Energy Cup Series and the Daytona 500. NBC executive Sam Flood, calls NBC "the home of motorsports," doing what it calls "superserving" passionate fan bases as it tries to draw bigger audiences.
"Motorsports and racing fans are some of the most avid sports fans on the planet, and while some specifically follow their favorite series, many of those fans love racing in general," said Flood, the executive producer and president, production, for NBC and the NBC Sports Network.
Then Flood cut to the chase, adding: "If you like to watch athletes compete at the highest level and race at incredible rates of speed, NBC Sports is your one-stop shop."
YOU MAY ALSO LIKE
That, of course, is not literally true, but Flood wants racing fans to know that NBC is planning to floor it with motorsports coverage, even though fans have tuned out recently.
As with many other sports, TV ratings of motorsports coverage sagged again last year. NASCAR Cup races on Fox and NBC, for instance, drew an average of 3.3 million viewers, down from 4.1 million viewers in 2017 and 4.5 million viewers in 2016. The final Indy 500 on ABC last May drew 4.9 million viewers, down from 5.5 million in 2017.
NBC plans to tie several racing series closer. An example is their coverage from the Rolex 24, which will include features on Thursday on Alex Zanardi, the former Indy-car driver who lost both legs in a 2001 accident but is driving in the Rolex 24, and Dale Earnhardt Jr., who drove with his late father, Dale Earnhardt Sr., in the Rolex 24 in early 2001.
Earnhardt, now an NBC analyst, will join NASCAR analyst Steve Letarte and host Krista Voda inside the "Peacock Pit Box," a studio set built within a traditional pit box frame which will be set up along pit road and is designed to bring viewers closer to the action.
Another set of announcers, comprised of NASCAR-on-NBC lead announcer Rick Allen plus IndyCar-on-NBC analysts Paul Tracy and IMSA champion Townsend Bell and Brian Till, will be featured throughout the Rolex 24 weekend.
NASCAR-on-NBC reporters Marty Snider, Dave Burns, Kelli Stavast and Parker Kligerman will join IndyCar-on-NBC reporters Kevin Lee and Jon Beekhuis on pit road. NASCAR reporter Rutledge Wood will work stories around the Daytona International Speedway.
The Rolex 24 has competition in four different sports-car classes among 13 different manufacturers, and several drivers known more for racing in other series are planning to participate, including Fernando Alonso from Formula 1 and Scott Dixon and Alexander Rossi from Indy cars.
A.J. Allmendinger and Bell will be providing commentary for NBC anddriving shifts for their teams in the Rolex 24, which is possible because drivers rotate for their teams in the 24-hour race, which starts Saturday afternoon.
All but seven of the 25 hours of Rolex 24 race coverage will be carried on the NBC Sports Network. The other seven hours are to be carried on the NBC Sports app.
NBC will then offer more coverage of Indy-car racing than ever, airing the full season of races. Launching next month will be the NBC Sports Gold Indy-car Pass, which will provide complete live coverage of all practices and qualifying.
NASCAR coverage on NBC won't begin for more than five months. With NASCAR making only minor changes to its 2019 Cup schedule, it is hard to figure out how Fox or NBC will be able to give their ratings much of a boost.
NBC appears to be hoping, though, that it will provide race fans with the coverage that will give them more reason to keep tuning in, no matter what machines are raced. TV ratings from the Rolex 24 won't make or break NBC's mission, but it could give the network a nice kick start.
["source=forbes"]