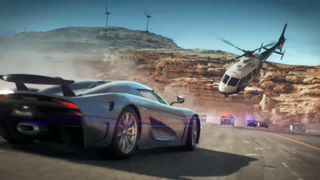 Updated: At E3 2017 EA was giving its first look at this year's Need for Speed: Payback. We got the chance to go hands on with the game and speak to its creative director, William Ho. Read on for our full impressions. 
Original article continues below…
Following up from the 2015 reboot of the series, the new Need for Speed game, subtitled 'Payback', is much more narrative-heavy than the series has traditionally been in the past.
The game features three protagonists, Tyler, Mac and Jess, who team up to take on the House, who have taken something from the crew that needs to be returned.
From the outrageously modded vehicles, to the fast-paced, car-based stunts and delightfully corny dialogue the game is taking some pretty serious inspiration from The Fast and the Furious films, which considering the DNA that's been shared between the games and the films over the years isn't too surprising.
We've had a chance to play the game for ourselves, and have even had a chat with the game's creative director William Ho, so read on below for everything we know so far about the game.
Cut to the chase
What is it? The latest entry for the Need for Speed series
When can I play it? November 11, 2017
What can I play it on? PS4, Xbox One (including Scorpio) and PC
Need for Speed: Payback trailers
Our first look at the game came from a reveal trailer that was launched two weeks before E3. This trailer announced the game's title, as well as giving us our first look at the game's characters.
At E3, EA followed up with a closer look at the game's gameplay, and showed off the Highway Heist mission that involves stealing a hypercar from a moving truck. According to EA, the level arrives at the end of the game's second act.
Story
Need for Speed Payback takes players on an explosive adventure filled with intense heist missions, high stakes car battles and epic cop pursuits. In case that sounds familiar, it seems that this latest game in the series takes heavy inspiration from the Fast and Furious films.
Ghost Games, the developer behind Payback, promises to tell a gripping story of betrayal and revenge against the House organization. Early trailers and some demo time we've had with the game shows the story revolves around three protagonists named Tyler, Jess and Mac.
The three protagonists each have their own different personality and style of mission. The game's creative director, William Ho, explains that Tyler is the "aspiring street racer", Mac is the "extreme guy and the comic relief" and Jess is the "consummate professional driver who's the action hero."
Gameplay hands on impressions
Need for Speed: Payback's missions are split into three main types, racing, drifting and action missions. You can decide to do any type of mission at any time as the game will give you the option of all three from the main menu by choosing between the three main characters.
As Ho explains, "you play the game along what we call 'individual quest lines'. If you want to race for a while you switch to Tyler and you play racing, if you want to do a lot of drifting, if you're in that mood to drive sideways a lot, then you switch to Mac…[and] Jess has all the action missions."
This is similar to previous games in the series which have split their missions between 'Cop' and 'Racer' modes, meaning that if you want to spend time racing you can do so without having to play through some other modes first.
From playing the story-based mission being shown off at E3 it's clear that the game has the same arcade-like handling that the series is known for. Tapping the brake will immediately put your car into a powerslide, allowing you to drift around corners without ever having to slow down.
Additionally, the game features the same destruction that was introduced by Criterion Games in their Need for Speed entries. In the mission we played, enemy cars had health bars that we could whittle down by smashing into them. When these were eventually reduced to zero, we were treated to a delightfully slow-motion shot of the enemy car careening off the road.
We were less impressed with the numerous cut-scenes that were present throughout the mission, which really interrupted the flow of the mission.
Whereas a game like GTA5 would feature characters jumping from vehicle to vehicle without taking control away from the player, Payback contained these moments in cutscenes, which ended up feeling slightly jarring.
However, the game's creative director, William Ho, was keen to defend this choice, "We really want people to be attached to these avatars, because they're representing our player's desires and motivations, so we definitely want to show off our characters as much as possible."
Outside of this Highway Heist mission we haven't had much more information about how the game will play, but EA will no doubt have much more details to share as we move closer to the game's full release.
Need for Speed: Payback features
Although there's still a lot for EA to reveal about the game, we do have a few tantalising details on what the game will feature.
24-hour day/night cycle
In contrast to the previous game's nighttime-only gameplay, Payback will feature a full 24-hour day/night cycle, a first for the series.
Combined with the game's map, Ho suggested that this creates the most diverse set of environments seen in a Need for Speed game.
"You're always seeing something new. I'm driving around an open-world and I'm like 'I haven't seen this', and I work on the game!" Ho jokes.
Offline mode
The previous game in the series, 2015's Need for Speed reboot, attracted a fair amount of criticism for its always-online nature.
Ho was keen to emphasise that this would not be making a return for Payback, and that players would be able to play the game's single-player mode offline if they wanted to.
Thankfully, cars earned, built, and tuned in offline mode are still able to be used in multiplayer races online.
Derelict cars
In addition to the muscle cars and exotic cars that have featured in the series before, Payback will also introduce 'derelict' cars, which are vintage cars that the player restores from scrap.
Car customisation
In keeping with the franchise's strong emphasis on customizing your vehicles, Payback will allow you to tweak and modify your car to your heart's content, however EA haven't yet confirmed what form the customization will take at this point.
"We've got some new tricks up our sleeve to add depth and breadth to our customization experience…and I cannot wait to show this to you at a later date," the game's creative director teased.
Frostbite engine improvements
EA's internal engine, Frostbite, has been used across numerous titles from the publisher, from sports games through to first-person shooters such as the Battlefield series.
It's also been used in Need for Speed games going back to 'The Run' in 2011.
However for this entry in the series there have been a number of improvements made, chief amongst them a new physics engine which the game has been fully integrated with.
"It's enabled more different ways to tune our cars. We have five different car classes with very different handling characteristics," the game's creative director explained.
In addition, the new physics engine has enabled off-road gameplay, which has a much different feel to on-road driving.
Project Scorpio version
Although Ho was able to confirm that the game would bring support for Microsoft's upcoming Project Scorpio console, he was unable to say exactly what features the new hardware would unlock.
When asked directly if the game would run in 4K, the game's creative director was cagey.
"Our game would absolutely look gorgeous in 4K, so hopefully we'll talk about that soon." he said.
E3 is the world's largest exhibition for the games industry, stuffed full of the latest and greatest games, consoles, and gaming hardware. TechRadar is reporting live from Los Angeles all week to bring you the very latest from the show floor. Head to our dedicated E3 2017 hub to see all the new releases, along with TechRadar's world-class analysis and buying advice about the next year in gaming. 
["Source-ndtv"]