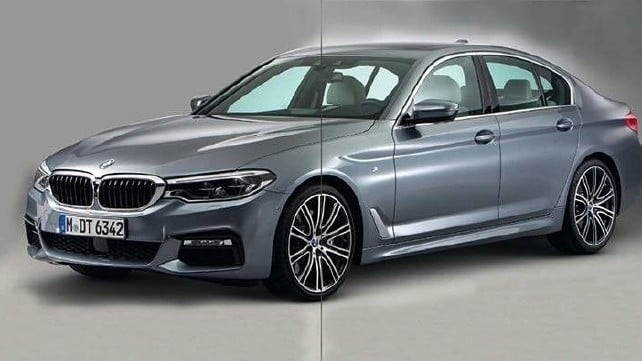 The next-generation BMW 5 Series has been leaked ahead of its official debut on October 13. Internally codenamed G30, this is the seventh generation for the German automakers mid-size luxury sedan and it will go into production from next month.
The latest generation 7 Series was an evolution of its predecessor so it was pretty much expected that the new 5 Series would built along the lines of the outgoing model. From the pictures we can see that this new car gets a wider kidney grille and wedge like headlights (with the silver eyebrows from E60 era) but retains the overall design that has defined the model range for the last five to six years. The side is dominated is by softly flared wheel arches and sharp creases that run along the door handles and by the base of the doors. At the rear, we can see the signature BMW wrap around LED tail lamps, sporty bumpers and sharp spoiler.
There is a photo of the cabin (from the driver's seat) and it shows things like a fully digital instrument cluster, floating free-stand infotainment display, colour display for the climate control system. The overall design includes leather inserts, chrome plastics and wood inserts for the lid of the cup holder and the doors.
If the car is going into production in November then the car is expected to go on sale either in the end of December or in early January 2017. This means we will get the car around March or April through the local assembly route and in both petrol and diesel guises. Also expect a limited unit launch edition which will be heavy on features and only be offered as a CBU.
Source
source"cnbc"