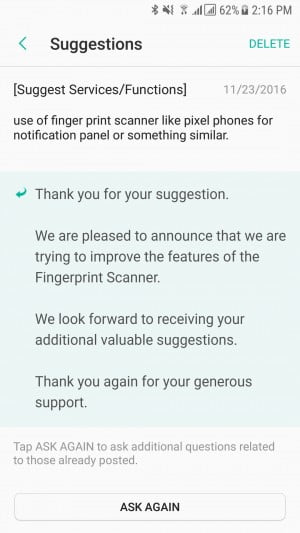 The Galaxy Beta program is currently in the full swing of things and part of that program is taking suggestions and feedback from participants of the program. According to a reply received from a tester, Samsung is pleased to announce that it it "trying to improve the features of the Fingerprint Scanner.
A beta program tester suggested that the fingerprint scanner should work similarly to the way the Google Pixel (XL) allows you to swipe up or down to control pull down or hide the notification shade. Samsung replied to the tester, thanking them for their suggestion.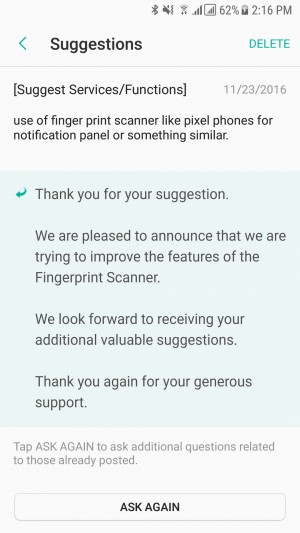 Source: SamMobile
If you ask me, before implementing any gestures, perhaps Samsung should see how it can improve the accuracy of the US-variants' fingerprint scanners. Contrary to the Exynos-variant of the Galaxy S7, the US version with the Snapdragon 820 has an average performing scanner. We expect the scanner on the Galaxy S8 to be much improved.
Does this confirm that Samsung will actually implement these features? No. But that still leaves a possibility. And with the news that the Samsung Galaxy S8 might have a rear-mounted fingerprint scanner, there could be even more reason to implement the fingerprint scanner with gestures.
Via
source"cnbc"