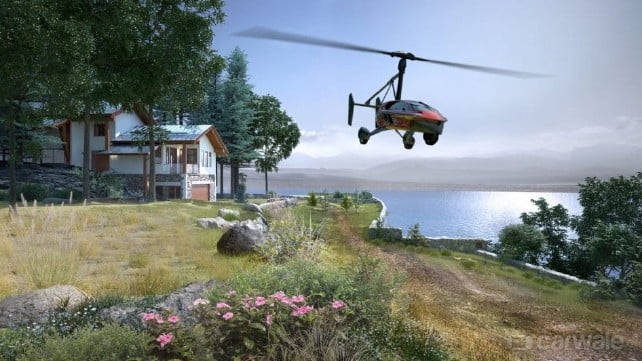 Flying cars have always been day dream. We have seen quite a few of them being built and a very few of them being used. But most of them were one-offs or when it came to production, probably could not match their claims. The Dutch company PAL-V seems to have cracked the code and have opened their order books for their car-plane – the Liberty.
The Liberty is a very interesting proposition. For a car, it runs on three wheels. But do not worry, it will not tumble like the Reliant Robin. The car leans over like a motorcycle as you steer it into corners. PAL-V claims the Liberty can go to a top speed of over 150kmph, hitting 100kmph in less than ten seconds. And that is in spite of the car carrying two engines, rotor blades for the gyrocopter than the Liberty transforms into.
On road, with the flying equipment stacked in, it is under five metres in length and two metres in height. The transformation into an aircraft is semi-automatic and does need some manual intervention. When opened up it stretches to almost twice it length and height. It has a range of about 500kms with single occupancy which reduces by a 100kms with a passenger and that is when you keep it hovering at the 150kmph mark rather than its top speed in air of over 170kmph.
For the practicality it offers, especially for reducing commuting times, the PAL-V is certainly a unique solution. But then, you also have to adhere to the flying norms of the land which might turn out to be quite tedious. If you thought you could fly out straight out of traffic, sadly, you might not be able to.
And then there is a price tag of 4,00,000 dollars, approximately Rs 2.5 crore in India. You can book the car for an advance payment of 25,000 dollars or book a slot in their order books for 10,000 dollars in case you might have second thoughts.
source"cnbc"