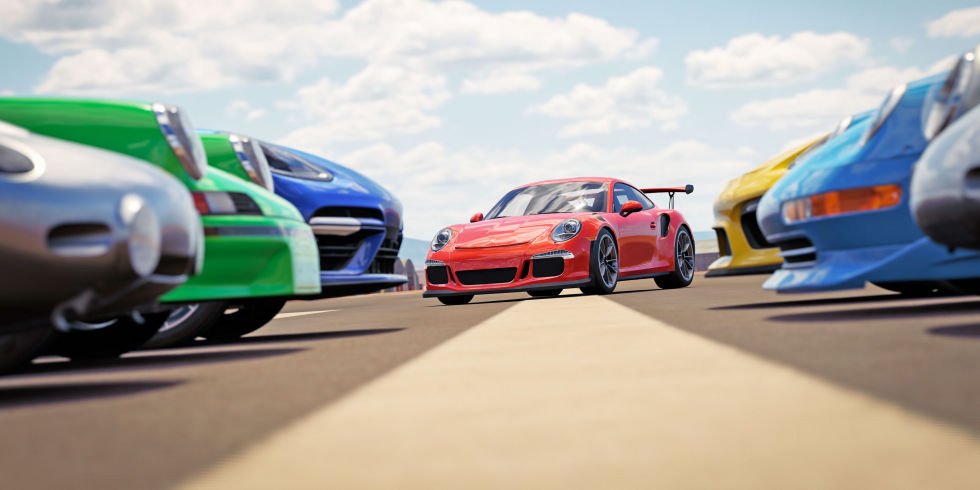 This week,Porsche and Microsoft began a six year partnership that'll see Porsche cars return to Microsoft and Turn 10's Forza Motorsport and Forza Horizon franchises. You're probably thinking that this is great and that you get to drive Porsches in games again, but it's about more than that.
"I don't need players to get into traditional motorsport," Dan Greenawalt, the Creative Director at Turn 10 told Road & Track during the NY Auto Show. "But I really want them to get excited about car culture."
That's what Porsche wants too. And that's the intention of this partnership. It starts off this weekend with an invite-only racing series which becomes Porsche's official entry into esports. The way Porsche looks at it, this partnership lets them improve the gaming space.
Porsche's Scott Baker told us that "our responsibility isn't to market games to customers. It's to deliver authenticity to the space, and to integrate locations, personality, and experiences to allow the gamer to be a part of something they couldn't get someplace else."
So what does that mean, exactly? Well, the car pack allows people to compare classic Porsches, like the RSK and 550, to something modern like a 718 Boxster. It lets Porsche tell its story to a whole raft of gamers who might not be able to own a Porsche yet, but will want to in the future. But how can it progress past that? Porsche and Turn 10 are coy on specifics, but we have a few ideas.
Maybe the drive for authenticity could lead to re-running classic races online in Porsches, like a 917 at Le Mans. Perhaps there's the opportunity to debut new cars or new drivers in the game in the future. What we do know is that this partnership is far more than just a company providing its cars to a game. It's actually one of the first times we've seen a car company really partner up with a video game in order to keep car enthusiasm alive and growing amongst younger fans. That's something we can all celebrate.
["Source-roadandtrack"]