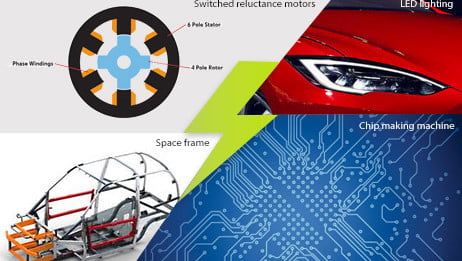 We have discussed the two pillars of EV technology – the batteries and the chipsets. Now comes the third one and it is not limited to EVs. The advancement in equipment has allowed every field of science to grow by leaps and bounds. The modern day electric vehicles can pick and choose from the latest technologies in manufacturing, materials and machines to become better by the day.
For example, consider the basic need of an electric vehicle – a motor. With the advent of brushless DC motors and switched reluctance motors, the energy efficiency of EVs has increased while keeping the costs low. Also, with production processes and machines getting better, the motors have reduced in size. The compact size helps better packaging and weight distribution of the electric car. With lighter materials being developed which offer the same strength, the weight of the EVs can also be kept in check.
Another manifestation of advancing material technology is seen in the construction of the car itself. While materials like carbon-fibre are very expensive, new forming and strengthening techniques like 3D printing for traditional materials have helped in keeping the weight as well as the costs low. New chassis technologies like space-frame construction or a fusion of monocoque and space-frame architecture have assured occupant safety while minimising weight further. Accuracy and precision in production processes have helped designers take the optimum route for every design aspect, cutting down on excesses in the process.
Innovations like LED lighting have reduced electricity consumption many-fold while providing better illumination. The invention of low resistance tyres has ensured that the traction losses can be minimised. Computers have helped reduce aerodynamic drag as the body lines can now be fine-tuned to the last millimetre and produced as well. Electric vehicles of the future will be works of art, taking the best from every walk of science and technology to use every ounce of electricity judiciously because that will probably be the only way we can conserve our resources, manage pollution levels and keep our ecosystem intact.
source"gsmarena"