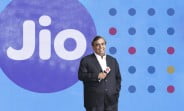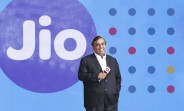 Indian carrier Reliance Jio has announced that it will be extending its free 4G data and Jio services offer till March 2017. Reliance is calling this the Jio Happy New Year Offer, under which all existing as well as new customers will be eligible for free data until this period.
The important thing to note here is that while until now the free data limit per day was 4GB, it will be reduced to 1GB under the new offer. Post 1GB, the download speed will be capped to 128kbps. Reliance claims that 80% of its customers use less than 1GB per day and by reducing the limit all users get fair share of network capacity.
Reliance announced the free data and Jio services offer for customers back in September, where the offer was valid until December 31, after which the tariff plans would come into effect but the Jio Happy New Year Offer, which comes into effect on December 4, will extend the free data offer by another three months. Voice calls, as before, will always be free.
Reliance Jio currently has over 52 million users, with 50 million being added in 83 days. Reliance also plans on deploying JioMoney Merchant Solutions in the coming months to increase adoption of cashless payment system among customers and merchants.
Source