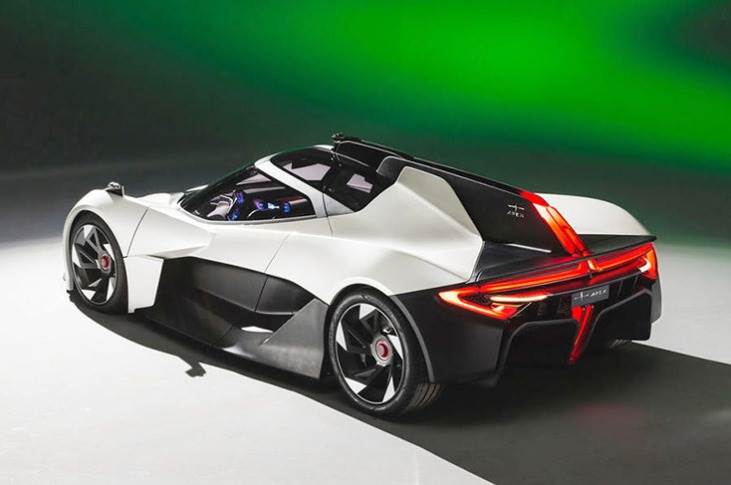 The Apex AP-0 is an electric supercar to be engineered and built in the UK and designed by Brit Guy Colborne, known for the Elemental RP1.
The AP-0 is described as race-inspired and road legal, and while the model revealed today is a concept, the car is set to make production in late 2022, with prices starting from £150,000 (Rs 1.40 crore).
The zero-emissions model is the latest in a list of electric supercars being revealed worldwide from a variety of start-ups and established players, all of which hope to create driving appeal in the traditionally more sedate EV market. These include the Pininfarina Battista, Rimac C_Two, Dendrobium D-1 and Lotus Evija.
However, the ethos behind the car is more in line with the RP1 or KTM X-Bow but intends to offer more on-road comfort than either of those models, given that it is not an open-top.
Apex claims the AP-0, which produces 650bhp and 428lb ft of torque, is capable of 0-62mph/100kph in 2.3sec, with a top speed of 190mph/304kph. This rapid benchmark sprint is slower than those claimed by the Battista and C_Two, which promise "under two seconds" and 1.9sec respectively, but quicker than the RP1 and X-Bow.
Apex says the car is not intended to be a hypercar. "This is reflected in the price, power output and vehicle weight. Instead, this is a sports car that was designed to be light, fast and a statement of intent for Apex to create the world's finest zero-emissions sports cars which are usable and comfortable on the road but transform into a pure driver's car on a race track," it said.
The supercar will have an official range of 320 miles / 512 kilometres and, via a 350kW CCS connector, can be charged up to 80% in less than 15 minutes.
Apex claims the AP-0 weighs 1200kg – significantly lower than the majority of electric sports cars – thanks to the use of a carbonfibre tub at its core. The structure uses modular spaceframes and a centre spine that links the front and rear. The bodyshell is wrapped around the tub and spine but still exposes the carbonfibre chassis. Batteries are floor mounted at both front and rear in a bid to achieve the lowest possible centre of gravity.
The AP-0 uses a pushrod suspension system, the same as most Formula 1 teams, and has automatic ride height adjustment, using adjustable coilover springs and dampers.
The AP-0 is capable of Level 3 autonomy, which includes automatic emergency braking and lane-keeping assistance, but Apex says the system is advanced enough for Level 4 (self-driving in all but the trickiest scenarios) when it becomes "safely achievable".
It uses Lidar technology, with sensors mounted high up in the car's dramatic central fin, to generate detailed, three-dimensional maps of the vehicle's surroundings. Apex said the technology enhances its driver assistance systems by more accurately identifying potential hazards, pedestrians, cyclists and other vehicles.
It also has a holographic augmented reality display and augmented reality race instructor, to help drivers learn new race tracks.
Designer Guy Colborne said the production version would remain largely unchanged from the concept. "We're going to work on ingress and egress, by pushing the tub down a bit, for starters. And then practicality aspects – for example, whether we can package in a frunk [front boot] for luggage."
Inside, there are bucket seats and a race-derived feet-up driving position.
Apex is headed up by two Hong Kong-based brothers, Jason and Gary Leung, but the firm will operate its engineering, design and manufacturing from a not-yet-built site near Woking in Surrey. The facility, once up and running, will be able to produce 500 AP-0s a year.
Apex previously launched the 620kg, 400bhp AP-1, of which more than 10 have been sold so far. The Leung brothers said the AP-1 also continues as a test mule for improving carbon-fibre technology for the AP-0 production car.
["source=autocarpro"]