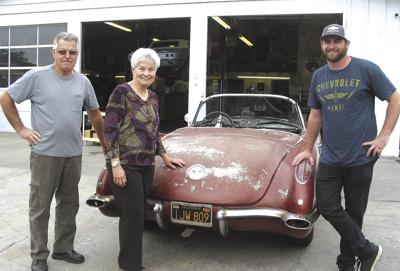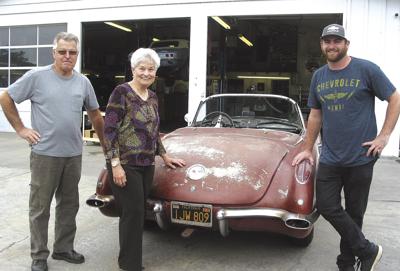 Carpinteria's 22nd annual Rods & Roses car show will take place on Saturday, June 29, from 10 a.m. to 3 p.m. on Linden Avenue. One of this year's highlights will be a classic 1960 Corvette convertible owned by Carpinteria/Summerland firefighter, the late Richard Tenold.
"Dick loved anything with an engine," Sheila Tenold said of her husband. "He had his 'Vette' when I met him in 1974. I was a car girl in my 20s and I had owned an Austin 'bug-eyed' Sprite, and a used 1965 Maserati. Dick was very protective of his prized car, but let me take it for spin because I knew how to drive. We got married in 1978," Sheila smiled.
He purchased the car from Santa Barbara's Washburn Chevrolet, where the owner's wife was driving it as a demo. Sheila said Dick's almost-new Corvette cost under $5,000. Tenold drove the car often, but eventually it found a permanent spot in the family's driveway and then sat idle for 30 years.
Edward Wittwer is known around Carpinteria as "Corvette Ed." Owner of the local Corvette Service Company located on the corner of Via Real and Padaro Lane, Wittwer is recognized as one of the top Corvette mechanics and restoration experts in the country. Wittwer lived around the corner from the Tenolds and remembers that Dick's car looked pretty dilapidated after sitting outside for so long. He urged him to get his car out of the weather, but Dick would always say, "I'm working on it." Sheila said her husband thought about restoring the car after they visited the Corvette factory in Bowling Green, Kentucky.
"It was one of the best trips we took, and it was amazing to go through the museum and then actually watch the delivery of a new Corvette. They still do that for new car buyers," Sheila said. Unfortunately, fate intervened before Tenold was able to begin his restoration project. Earlier this summer, Sheila met with Wittwer and Rods and Roses organizer Gary Dobbins and hatched a plan to include Dick's 'Vette in this year's show. Wittwer said the unrestored Tenold car will be presented with its original engine and faded red patina finish. Attendees will be able to sit inside the historic convertible and Sheila and Wittwer will be on-hand to answer questions and share stories. The fuel injected 1960 Corvette convertible will be on display near the Seal Fountain on Linden Avenue.
"Dick was a very personable and friendly guy, and I think he would have been honored to have the public see his car," Wittwer said.
["source=coastalview"]