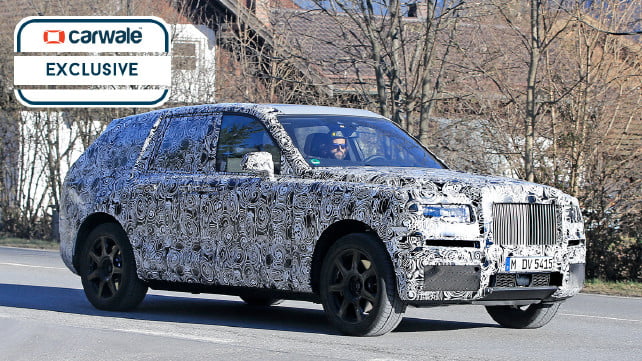 Just a short while after Rolls-Royce released some images of its upcoming SUV, the Cullinan, it has been spotted doing the rounds somewhere in Europe. This will be the new high riding vehicle from the British luxury automaker and will take on the likes of the Bentley Bentayga.
The pictures reveal the Rolls Royce have kept with the times and have gone with a crossover design rather than a complete boxy design.  Many of the design cues look to have come from the new BMW X7 with which it is expected to share a platform. However, the similarity to the X7 ends on the front end where we see the traditional upright RR grille. In production guise, this grille will also sport the famous of spirit of ecstasy logo.
Noticeable elements apart from the grille are expected to be the headlights, wheels as well as tail lamps. The cabin in production guise is expected to be as luxurious as ever with everything being electrically adjustable and covered in multiple layers of which one is definitely expected to be some form of fancy leather.
We believe that this car will make use of 6.8-litre V12 powering the current Phantom and will sport similar output of 423bhp/720Nm of torque. It is expected to get AWD (which will be given some fancy British name no doubt) and a nine-speed AT.
Will we get to see this car India? Definitely! As it combines the two things that get luxury buyers excited in India- ultra luxury with the benefits of an SUV. Expect a debut sometime in mid-2019 and more importantly once the car has been launched in the US/Europe.
source"cnbc"