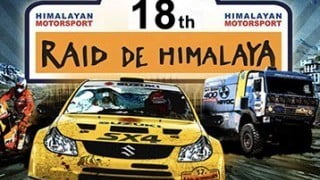 Winners of Maruti Suzuki Raid de Himalaya will be officially announced today. This time around, five participants namely Suresh Rana driving the Suzuki Vitara, Lhakpa Tsering driving the Polaris 1000RZR XP, Sarah Kashyap riding the Royal Enfield Himalayan, Abdul Wahid Tanveer and Natraj R riding the TVS RTR450 have gained much fame and applaud from spectators. These riders/drivers have impressed everyone with their skills and lap times.
Lone lady biker Sarah Kashyap, claimed the top spot in the Royal Enfield Himalayan group with impressive lap times. Her second time at the Raid this year, she hopes to come out with better numbers this year. At the 17th Edition of the Raid de Himalaya, she gained a lot of attention when she completed the last day ride with a broken collarbone. At this year's event she also stated that this year's race will help her test the Himalayan's capabilities on behalf of her employer Royal Enfield.
Abdul Wahid Tanveer and Natraj R who are riding the TVS RTR450 are holding the top two positions on charts in the Xtreme bikes category.  The latter is just tailing the former by a few minutes. The winner is expected to win this year with a margin of a few minutes if not longer. The latter had claimed the second spot in last year's event and it will indeed be worth a wait to see if he claims the first spot this year.
Suresh Rana, the nine-time record holder is all set to claim his tenth title this year. Nicknamed as the Manali man, Rana is a popular name in Raid. Driving the Suzuki Vitara, Rana has claimed the top spot on the list with his impressive skills under tough and rough conditions. He has also won four titles in the Desert Storm. With some serious driving skills, Rana only faces tough competition from Lhakpa Tsering.
Defending the winner title, Lhakpa Tsering is driving the Polaris 1000RZR XP this year. Driving the most advanced ATV, Lhakpa is a veteran of many rallies. This year, he may just hand the first position to Rana and with the final winner announcement being made today, it is to be seen who will claim the top position this year.
source"cnbc"