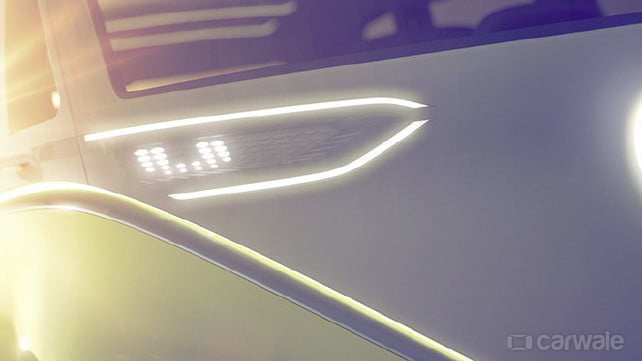 Volkswagen will take the stage at the impending 2017 Detroit Motor Show with its second vehicle from the new electric I.D. family. The German car maker has teased the vehicle ahead of the launch and it seems to be a larger vehicle than the first I.D. Concept showcased at the 2016 Paris Motor Show.
The I.D. Concept showcased earlier was a hatchback, but this car is speculated to be a spiritual successor to the iconic Volkswagen Microbus. As the German manufacturer emphasises that this vehicle will be a link between Volkswagen's legendary origin and its electric future, and the car to be – a multifunctional vehicle of a new era.
The vehicle will be based on the same Modular Electric Drive Kit (MEB) platform which is specifically developed by Volkswagen for its future electric vehicles. The car will incorporate two electric motors and an all-wheel-drive system, says the manufacturers, limiting any further information about its powertrain. On the inside, however, this future EV promises to have multi-functional and flexible interiors.
This I.D. EV will also have the autonomous credentials in the future. The light dab on the company's logo on the steering will retract the steering into the cockpit as the car will transform itself into a self-driving vehicle; employing laser scanners, ultrasonic and radar sensors and cameras to monitor other road users and the surroundings, claims Volkswagen.
Moving ahead of the infamous diesel gate, Volkswagen intends to obligate the future with electric vehicles. This EV will be a part of Volkswagen's grand scheme to introduce 30 or more electric vehicles and anticipates to sell one million (10 lakh) electric vehicles by the year 2025. While still in a concept stage, this new EV from the Detroit Motor Show is proposed to go into production only by 201
source"cnbc"