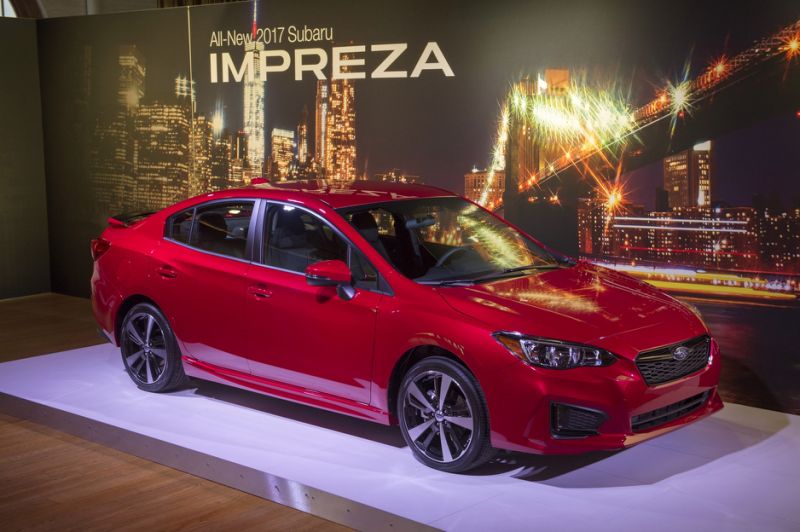 New York City is located within the most densely populated and economically powerful region of the United States. Therefore, while many residents of the city itself do not own a car, most of the people living outside of Manhattan do. And that makes the annual New York International Auto Show one of the most important in the country.
If you're planning to attend the show during its public days of Friday, April 14 to Sunday, April 23, be sure to check out these hot new vehicles, listed in alphabetical order on the pages that follow.
---
Highlights from the 2017 Geneva International Motor Show
Highlights from the 2017 Chicago Auto Show
Highlights from the 2017 Detroit Auto Show
Highlights from the 2017 Consumer Electronics Show
Highlights from the 2016 Los Angeles Auto Show
Highlights from the 2016 Paris Motor Show
Highlights from the 2016 New York Auto Show
More Auto Shows
Search Local Inventory
---
2018 Acura TLX
Aside from releasing a teaser image showing the 2018 TLX with a new "diamond pentagon" grille design and redesigned LED headlights, Acura is mum about changes to its midsize sedan. The TLX is not due for a full redesign, and spy images have shown what appears to be a new performance variant added to the lineup. Stay tuned for more details.
2018 Alfa Romeo Stelvio
Alfa Romeo fleshed out the Stelvio SUV lineup in advance of the New York Auto Show. In addition to the performance-tuned Quadrifoglio shown earlier this year, the standard Stelvio and Stelvio Ti trim levels will be on display, equipped with a turbocharged, 2.0-liter 4-cylinder engine making 280 horsepower.
2017 Audi RS 3
Audi Sport is making its products known to New Yorkers this year. In advance of the show, the company announced that a new RS-badged performance variant of the S3 is coming to America. The RS 3 packs a 400-horsepower, 2.5-liter 5-cylinder engine and plenty of equipment in exchange for about $55,000. A small number of them arrive as 2017 model-year vehicles, followed by another batch in 2018.
2018 Audi TT RS
The same drivetrain used in the new RS 3 sedan is also slipped into the Audi TT RS. In this lighter and smaller car, the 400-horse, 2.5-liter 5-cylinder engine is expected to sling the TT RS to 60 mph in 3.6 seconds, according to Audi. Standard torque-vectoring Quattro no doubt helps.
2018 Buick Enclave
General Motors is in the process of redesigning its midsize crossover SUVs. So far, the Cadillac XT5, Chevrolet Traverse, and GMC Acadia are either on sale or have been revealed. That leaves the Buick Enclave as the next family SUV reveal from the automaker, and it is rumored to be happening in New York.
2018 Buick Regal Sportback/Regal TourX
A redesigned 2018 Buick Regal arrives later this year, and this time the company is taking a different approach. The 4-door sedan is dropped, and the new 2018 Regal will take the form of a 5-door hatchback (Sportback) and a station wagon (TourX). A turbocharged 4-cylinder engine is standard for the Regal Sportback, all-wheel drive (AWD) is an option, and the car is built in Germany.
The second variation of the Regal sits on a raised suspension, features standard AWD, and wears SUV styling cues. Buick likens it to an Audi A4 Allroad or a Subaru Outback, and the Regal TourX is likely priced between the two while offering greater cargo capacity than either of them.
2018 Chevrolet Tahoe RST
RST stands for Rally Sport Truck, and this new version of both the 2018 Chevrolet Tahoe and Suburban aims to give the full-size SUVs a custom appearance. Chrome is eliminated, gloss black trim is added, and the RST upgrade includes 22-in. aluminum wheels. Buyers can upgrade to a 6.2-liter V-8 engine with a 10-speed automatic transmission, Borla performance exhaust system, magnetic ride control suspension, Brembo performance brakes, and more.
2018 Dodge Challenger SRT Demon
Now a decade old, the Dodge Challenger distinguishes itself from the more modern Chevrolet Camaro and Ford Mustang in perhaps the only way it can: Sheer, unadulterated muscle. You thought the fiendish Challenger SRT Hellcat was fast? The new Challenger SRT Demon promises outright accelerative depravity.
2018 Genesis G70
Genesis has a press conference scheduled for the New York Auto Show, and since the Kia Stinger is rumored to share the same platform developed for an entry-level Genesis luxury sport sedan, Hyundai's luxury channel could be planning a splashy debut for the G70 model.
2017 Honda Civic Si
It isn't that much more powerful than the previous-generation Civic Si, but the new 2017 version's turbocharged, 1.5-liter 4-cylinder engine makes its peak 205 horsepower 1,300 rpm lower than the old car, and peak torque of 192 lb.-ft. is available 2,300 rpm sooner. In other words, you no longer need to rev the heck out of the engine in order to access oomph.
2018 Honda Clarity Plug-in Hybrid and EV
Traditionally, the Clarity nameplate has graced Honda's innovative fuel-cell electric vehicle. Now, Honda is rolling out plug-in hybrid and plug-in electric versions of the redesigned Clarity, making it the first vehicle to offer those two propulsion systems in addition to a fuel-cell drivetrain. Honda says the Clarity Plug-in Hybrid will offer about 40 miles of range and that the Clarity Electric will be the most affordable, midsize, 5-passenger EV in the United States.
Infiniti QX80 Monograph Concept
Looking monolithic, the Infiniti QX80 Monograph is a concept vehicle pointing the way toward a next-generation full-size luxury SUV. Key Infiniti design cues are present and accounted for, and the greenhouse adopts a similar look to the current QX80 but with blacked-out windshield pillars for a floating-roof effect. Bet on 3 rows of seats, a powerful V-8 engine, and rugged underpinnings good for towing and hauling lots of weight.
2018 Jeep Grand Cherokee Trackhawk
Long rumored and now confirmed to debut in New York, the Jeep Grand Cherokee Trackhawk is expected to have the same supercharged, 6.2-liter V-8 engine installed in the Dodge Challenger and Charger SRT Hellcat models. Naturally, appropriately modified cooling, suspension, braking, and steering changes will fortify the massive power increase.
2018 Land Rover Range Rover Velar
Based on the same platform and powertrains as the Jaguar F-Pace, the new Range Rover Velar slots into the lineup between the Evoque and the Sport. That's right, it is more affordable than it looks, and it looks terrific. Turbocharged 4-cylinder engines burning gasoline or diesel will be available, along with a supercharged V-6.
2018 Lexus LS 500 F Sport
The third version of the new Lexus LS flagship arrives in New York. The LS 500 F Sport no doubt adopts a more aggressive look combined with hardware tuning intended to make the car more engaging to drive. Whether it will supply extra power or not remains to be seen.
2018 Mercedes-AMG GLC63
We saw this coming a mile away. With the twin-turbocharged, 3.0-liter V-6 engine powering the AMG GLC43, Mercedes left lots of room for a twin-turbocharged 4.0-liter V-8 and a range-topping AMG GLC63. Available in standard and coupe format, the AMG GLC63 cranks out 469 horsepower unless you get the AMG G63 S, which delivers 503 hp. Fast? Yep, to the tune of 60 mph in as few as 3.7 seconds, according to Mercedes.
2018 Mitsubishi Outlander Sport
Restyled bumpers and a new Alloy Silver color signal the 2018 Outlander Sport, but the more significant updates can't be seen from the outside. They include new driver-assistance, collision-avoidance, and infotainment technologies, as well as a redesigned center console.
2018 Nissan 370Z Heritage Edition
Masked by the bright yellow paint and black stripes, the new Heritage Edition version of the 2018 Nissan 370Z debuts changes to the company's iconic sports car. New headlights and taillights debut, Nissan revised the rear bumper for 2018, and a high-performance clutch debuts for Z cars with a manual gearbox.
2017 Nissan GT-R Track Edition
Blending elements of the GT-R Premium and the GT-R NISMO, the new GT-R Track Edition is available only by special order. Nissan plans a limited-production run of the cars, which are priced just under $130,000.
2018 Subaru Crosstrek
After its global debut in Geneva, the U.S.-spec 2018 Subaru Crosstrek rolls into the spotlight in New York. Highlights include base, Limited, and Premium trim levels, choice between a manual gearbox and a CVT, standard AWD with X Mode technology, and 8.7 ins. of ground clearance for genuine off-roading capability.
2018 Subaru Outback
Subaru is giving its popular Outback model a mid-cycle freshening for the 2018 model year. Subtle styling changes, improved interior materials, updated safety and infotainment technologies, and refined driving dynamics headline the changes to the 2018 Outback.
Toyota FT-4X Concept
Releasing nothing more than a photo of a rugged-looking wheel and mentioning something about 4-wheeling, Toyota is coy about what the FT-4X Concept is. If we had to guess, it reflects the automaker's thinking with regard to a possible resurrection of the iconic FJ series.
2018 Toyota Sienna
Toyota is revealing an updated Sienna minivan in New York, one wearing revised styling and equipped with standard Toyota Safety Sense driver-assistance and collision-avoidance systems. A new range of Entune infotainment systems is along for the ride, too.
2018 Toyota Yaris
Toyota's French-built Yaris hatchback receives minor styling adjustments, added standard equipment, and better infotainment systems for 2018.
2018 Volvo XC60
Volvo introduced the redesigned XC60 in Geneva, and the 5-passenger luxury crossover SUV makes its U.S. debut in New York. Looking like a scaled-down XC90 inside and out, it actually is one, built on the same platform, powered by the same engines, and equipped with the same driver-assistance, collision-avoidance, and infotainment technologies. Call it a good thing in a more affordable package.
[Source:-jdpower]