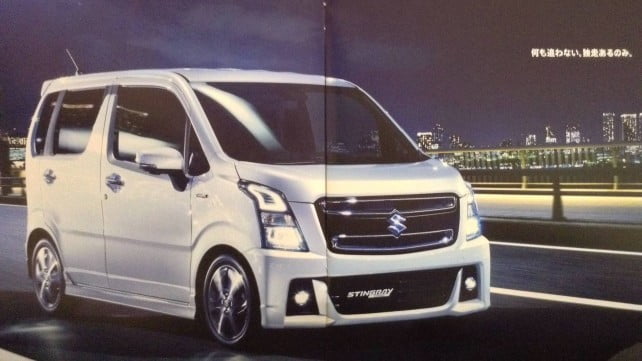 2017 Suzuki Wagon R Stingray revealed ahead of Japanese unveil
Venkat Desirazu, Jan 29 2017.
2484 View(s)
Be the first to comment
The 2017 Suzuki Wagon R will be unveiled on its home ground on February 1and alongside the standard car, Suzuki will also unveil the sportier Stingray model. The brochure for the same has been leaked and here are the details.
The pictures reveal that the Stingray variant which sport a larger grille, bumpers, wider mirrors, side skirts and sporty alloy wheels as compared to the standard car. The cabin is quite similar to that of the sixth-gen Wagon R and contains elements like a centrally mounted instrument cluster, touchscreen infotainment system and climate control as part of the standard equipment. The cabin is an all-black affair with orange inserts for the dash and orange backlighting for the instrument cluster.
Powering this Japanese spec sting ray is a 660cc three-pot petrol motor producing 50bhp/60Nm of torque in naturally aspirated form while as a turbocharged engine it produces 62bhp/94Nm of torque. It weights between 770-850kgs (depending on the three variants) and all can be had with had with AWD as well as an electric motor that produces 30bhp/50Nm.
The Maruti Suzuki Wagon R in India is also due for an update and this likely to be the vehicle in terms of design both standard and Stingray though the latter is expected to be called something else as the moniker has not been a hit among buyers. It is however expected to continue with the same underpinnings and 1.0-litre petrol engine that produces 67bhp/90Nm and can be had with a five-speed manual/AMT.
Tags:
Maruti Suzuki,Wagon R 1.0,Maruti Suzuki Wagon R 1.0
source"cnbc"