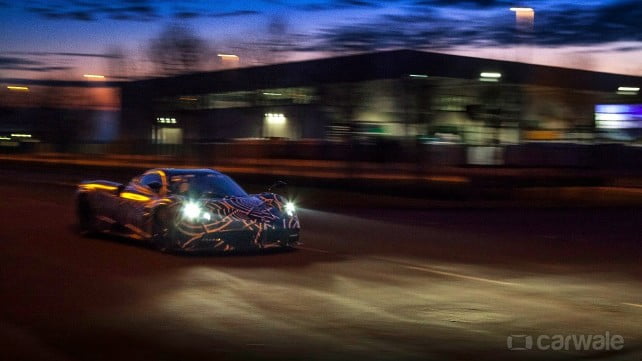 Continuing with the series of teasers, Pagani has dropped yet another teaser of the upcoming Huayra Roadster. Until now the teasers included close up shots of the engine, redesigned rear tail, specific panels, but now zipping in the teaser is the whole car, albeit camouflaged and with the roof attached.
Though concealed with the darkness, the teaser ratifies the speculation that the roof of the Roadster will be a hard-top panel design like the one found on the Zonda Roadster. The Huayra Roadster will lose the gull-wing door, and according to Horacio Pagani, it's the most complicated project Pagani has ever undertaken.
The Roadster will retain the mighty twin-turbocharged 6.0-litre Mercedes V12 engine with 730bhp. A whopping 1000Nm of torque will accessible to the right foot via a transverse sequential seven-speed automatic transmission. Performance should remain identical as well with a 0-100kmph sprint in around 3.3seconds and a top whack of 370kmph. The Huayra Roadster will be one of the fastest cars on the road that you can drive with the top down.
Other changes that are expected include more aggressive aero upgrades that will make the Roadster sharper than before. The Huayra already gets an active aerodynamic system that can adjust the ride height of the front and rear of the car independently and also adjust the spoiler for more or less downforce as and when needed. So the new Roadster can incorporate some of the Huayra BC's weight-saving techniques, like the carbon-fibre monocoque construction, full titanium exhaust, ultra-light suspension and brakes.
Further details are scarce as the car is gearing up for a debut at the upcoming 2017 Geneva Motor Show in March. Stay tuned for further updates.
source"cnbc"