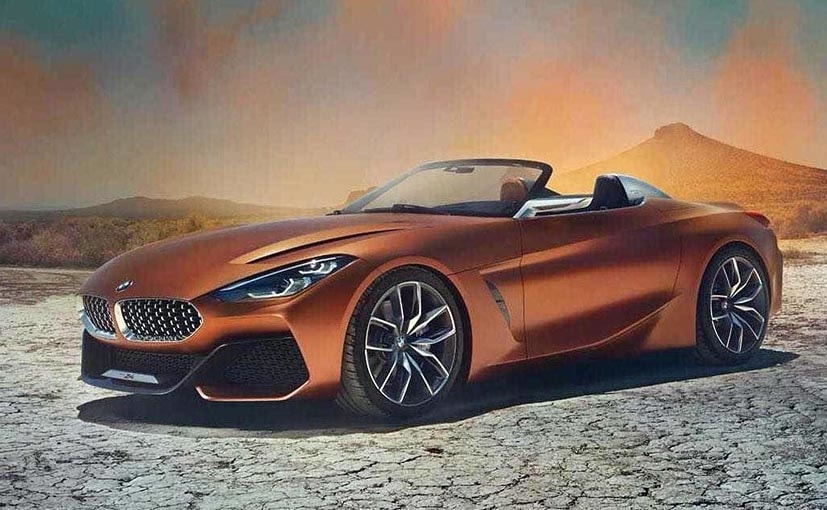 We've been waiting for this car a long time and well finally we get to see the BMW Z4 Concept. The concept previews the production roadster and it's absolutely brilliant to look at. The orange droptop will make a grand entrance at the Pebble Beach Concours d'Elegance on August 20. The folks at BMW say that the traditional styling cues have been done away with. To give you an example, the vertically oriented headlights diverge from the horizontal layout which we normally see in cars from German brands but the big change is that the bars in the kidney grille have been done away with and now, there's an intricately shaped mesh. Is this a sign of things to come then?
"The BMW Concept Z4 expresses the new BMW design language from all perspectives and in all details," said Adrian van Hooydonk, Senior Vice President BMW Group Design. "From the dynamic- looking front to the striking flanks to the clean-cut tail end: a few lines and the subtle interplay between surfaces are enough to generate a sense of power and emotion."
The Z4 concept features a fascia that appears to float below the hood. There's a V-shaped piece of carbon fibre which dominates the centre. The angular design with the long, clamshell hood's rounded shape make it look proportionate and the long slits are an interesting touch. The gills behind each wheel create contours that run up each side and there's a hard crease that starts at the upper portion of these outlets and flows diagonally up the body until the taillights pick up this shape. Nacelles are a common feature of the modern roadster, but the Z4 Concept has a unique spin on them by leaving them open in the centre. With a curvaceous body, the Z4 concept is quite the looker.
The cabin is a wacky place and gets a driver oriented cabin. As you expect out of most sports cars, the Z4 concept gets an all-black interior and there's a splash of chrome here and there, but you can't miss the very obvious red paddle shifters. The Z4 concept comes with a digital instrument cluster and a wide infotainment display, a feature that we'll probably see in more BMW cars soon. The concept's passenger side gets a shade of light brown leather that matches the exterior paint and this makes you wonder if the cabin is a mixture of two cars, which is why we think it looks a bit odd.
There are no details about the powertrain on offer on the BMW Z4 concept but we expect a four cylinder with 195 bhp and an inline six with 335 bhp to be offered. The production version of the Z4 Concept will be launched in the course of next year and we hope that the road-going model is as good as the concept.
[source=auto.ndtv]