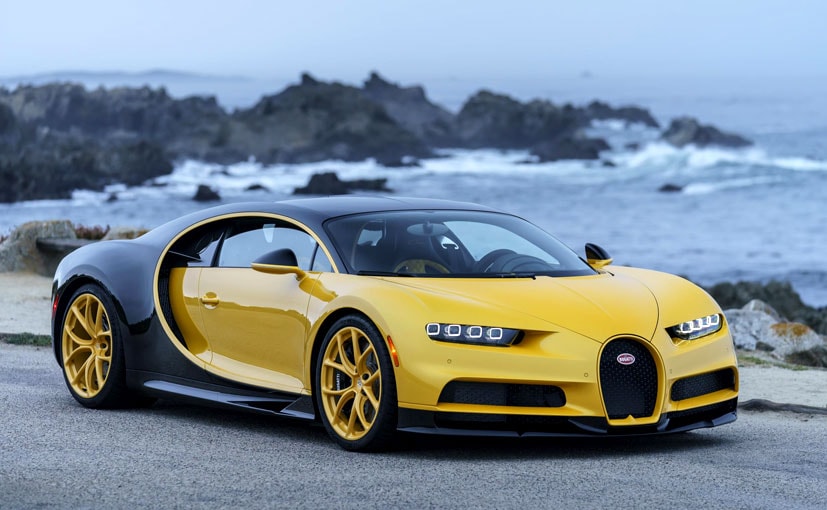 The Pebble Beach Concours d'Elegance 2017 offers the ideal backdrop for the delivery of the first Bugatti Chiron to a customer in the US. Following Europe, North America is the second most important sales market for the luxury brand from Molsheim. Almost 30 per cent of all the orders received for the Bugatti Chiron come from this region. The price in the market is ₹ 19.21 crore and is limited to only 500 vehicles. More than half of the total series has already been sold throughout the world.
The first US Chiron is a real eyecatcher with its yellow and black colour scheme. The front of the vehicle is patented in bright yellow and the rear in black "Nocturne". The "Classique" wheels, the Bugatti horseshoe emblem and the trim part of the prominent side line are also painted yellow. The distinctive two-tone colour scheme is continued by the full leather equipment of the interior. Yellow leather is used on the insides of the seats, the armrest on the centre console, the door trims and the C-shaped dividing line in the passenger compartment in contrast to the rest of the interior, which features "Beluga Black" leather.
The Bugatti Chiron is the world's first super sports car to bring 1,500 HP onto the road with a torque of 1.600 Nm at 2,000 to 6,000 rpm with tremendous effectiveness, extremely high safety levels and unprecedented comfort. This is the result of the legendary and unique eight-litre W16 engine that has been newly developed by Bugatti. In combination with the four new, larger turbochargers that are controlled by the Bugatti two-stage turbocharging, an innovation that Bugatti is introducing, and a large number of other technical refinements and innovations, maximum performance is available constantly and can be easily controlled at all speeds.
In its Top Speed mode, the car reaches the maximum speed of 420 kmph, limited for road use – however, this is by no means the end of the road for the Bugatti Chiron. With the new carbon fibre monocoque, a newly designed adaptive chassis, tyres developed especially for Bugatti and other innovative technologies, the Chiron is not only a champion in terms of maximum acceleration but is, for the first time, also an agile, modern Bugatti with handling that ensures maximum driving pleasure.
The design of the Chiron combines significantly more "beast" with a very high level of "beauty". The design language introduced by Bugatti with the Chiron has a significantly more aggressive tone and does justice to the character of the new super sports car. The designers have succeeded in reinterpreting Bugatti's DNA with its distinctive features in a modern manifestation at the same time as adding new features resulting from the technical demands of even higher performance. The Chiron remains unmistakably a Bugatti.
[source=auto.ndtv]