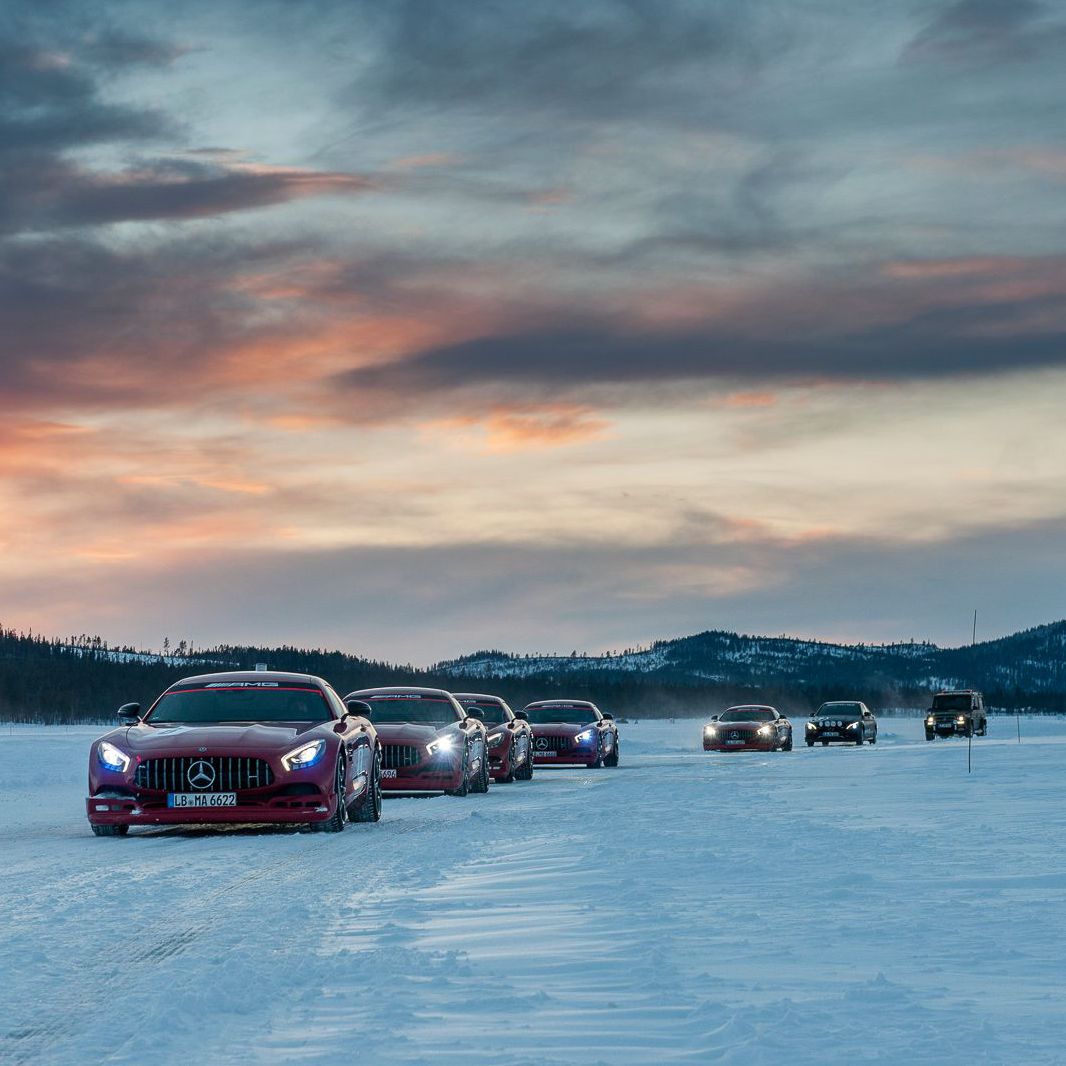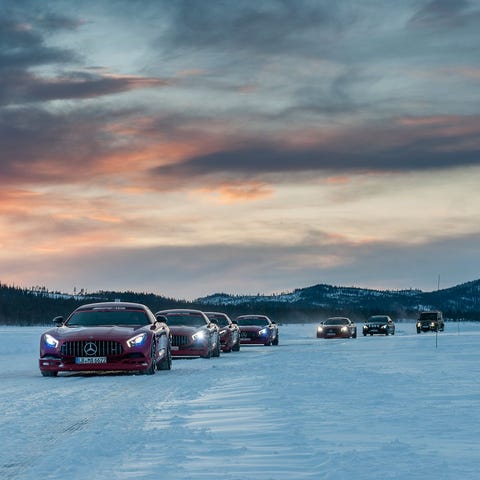 As Fashion Director here at Men's Health, I'm fortunate to have the opportunity to travel to incredible, breathtaking destinations around the globe in search of great style—and now, that includes the Arctic Circle. Mercedes-AMG invited me attend their driving school in Arjeplog, Sweden, with the opportunity to see their stunning new fleet of 2019 sports cars in action on frozen lakes at the edge of the Arctic Circle. But beyond the lustworthy high-performance sport cars, there was another layer of style to the trip—Santoni, one of the finest quality shoe brands, partnered with AMG to produce a special collection of driving shoes coming this fall.
With both luxury brands, the attention to detail in their high-quality product is truly remarkable, making them a perfect pairing. For the man who values style and function equally, AMG and Santoni prove there's no need to sacrifice one over the other. And my takeaway from the standout experience was getting to really see the parallels of design with both luxury automotive and fashion product.
The shape of a beautiful sports car, along with a highly attractive interior design are often what attracts a consumer to purchase a vehicle, but for real automobile buffs, the engine and it's performance play into their final decisions to choose what's right for them. After eyeing the exterior style and engine power, I often view the dashboard as the essential design element of a car for both your aesthetic comfort and driving experience control. And these new AMG models hit the high marks for what a man expects from a top-notch sports car.
While test driving these cars on snow and ice, I was extremely impressed by how they handle the tough terrain. Whether front-wheel, four-wheel ,or rear-wheel, each series style excelled on how they handled, responded, and reacted to the elements, showing they're more than just hot-looking cars.
Not many are likely to cruise around the arctic circle, but knowing you have a car that's built to tackle the most inclement of weather patterns is an added bonus you'll be thankful for.
Here's the five new Mercedes-AMG 2019 sports cars I had the privilege to drive—just don't ask me choose a favorite.
---
AMG E 63 S
This stunner is a perfect choice for all-around driving for any kind of terrain with 4-wheel drive. It's a practical family car that maintains a powerful edge for driving with race car driver excitement.
---
AMG GTS
Consider this option the closest you'll get to owning your very own Batmobile. Its unique design and powerful roaring engine are just what you want for fun weekend of racing.
---
AMG C 63 S
This sporty coupe has rear-wheel drive, which some men prefer for its handling. You'll feel the road as you drive in style with a great adrenaline rush.
---
AMG CLA 45
At first glance this car looks like a typical coupe, but super well done of course in classic Benz style. But then take this car for a spin and feel the extraordinary handling of the car—it's a flawlessly fun ride that's hard to beat.
---
AMG G 63 Wagon
Go big with this superior SUV. This latest edition of the G Wagon with it's wider body and vertical grill facelift makes this model pure perfection. Whether hitting the mountains or driving on sandy beaches this summer, the new G Wagon is a prime choice for rugged terrain with unbeatable performance.
["source=menshealth"]