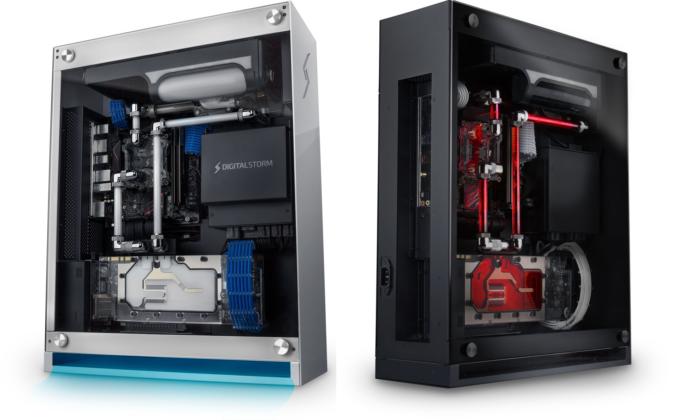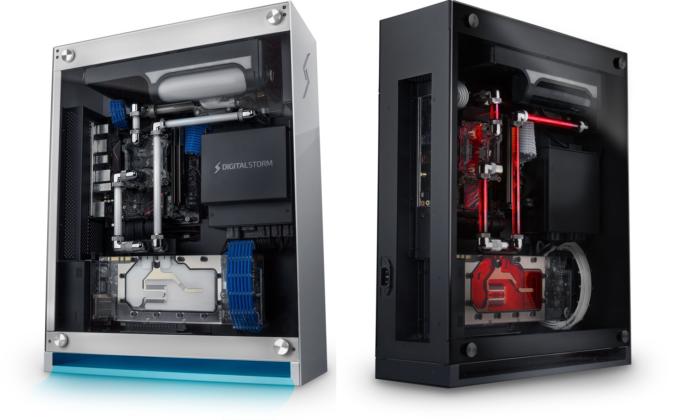 Boutique PC builder Digital Storm specializes in the sort of highly customized, jaw-dropping enthusiast PCs that grace the covers of computer magazines and leave you drooling with envy. That laser focus has allowed the company to spend years perfecting the design of its already damned near perfect Bolt small form-factor PC; in 2015, Digital Storm slapped a sexy edge-to-edge glass door on the Bolt, and in 2016, it upgraded the Bolt's glorious HydroLux hard acrylic liquid cooling with compression fittings and quick releases. At CES 2017, Digital Storm is turning its attention to the Bolt's non-liquid cooling.
Digital Storm's new Bolt X builds upon the shoulders of its predecessors with a vented base, which lets the PC draw in air from the bottom of its chassis, then vent it out through the top through its duo of top-mounted 140mm liquid-cooling radiators. Paired with the Bolt's already-great liquid cooling solution (which includes a custom 280mm radiator), Digital Storm's itty-bitty PC should be a cool runner that offers the sort of high-end gaming performance typically reserved for gargantuan desktops rigs.
Despite its tiny size, the Bolt X can support multiple storage drives, and its design makes it dead-simple to swap out internal components if you decide to upgrade in the future. (Well, if you don't mind disassembling and reassembling the relevant liquid-cooling hardware, that is.) You'll no doubt be able to configure the Bolt X's internal hardware when you buy the rig as well, following in the footsteps of previous Bolt generations.
My very first appointment of CES 2017 is with Digital Storm in just a few hours, so be on the lookout for actual photos of the Bolt X in action sooner than later, along with an update with any other new goodies Digital Storm has in store for PC enthusiasts.
source"cnbc"