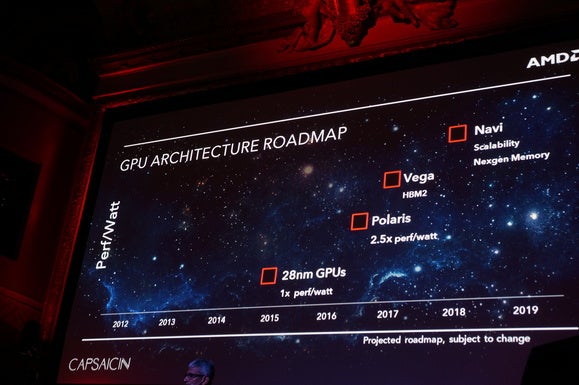 The wait for more details about Vega, AMD's forthcoming enthusiast-class Radeon graphics card architecture, will soon be over.
This morning, AMD's social media channels teased a new Ve.ga website featuring a countdown to a "Vega architecture preview." The clock runs out at 9:00 a.m. Eastern time on January 5, the opening day of CES 2017.
The graphics cards based on AMD's cutting-edge 14nm "Polaris" GPU architecture—the Radeon RX 480, RX 470, and RX 460—all focus on mainstream performance, with the priciest 8GB RX 480 models starting at $240. AMD's only enthusiast-class offerings, the high-bandwidth memory-equipped Fury lineup, simply don't hang with Nvidia's powerful GeForce GTX 1080, and can't even match the value proposition of the GTX 1070 without steep discounts. That leaves Radeon enthusiasts waiting for Vega.
Further reading: The best graphics cards for PC gaming
Vega's been nothing but a name on AMD's GPU roadmap since March, with only a brief "HBM2" highlight teased. It sounds like we're going to learn more hard details sooner. In the meantime, AMD also created a dedicated Radeon Technologies Group Facebook page enticing people to "Join the rebellion."
The story behind the story: Vega isn't the only high-end PC hardware we're likely to see at CES 2017. Late in December, AMD revealed many, many details about Ryzen, the drastically overhauled desktop processors that could be AMD's best chip family in a decade. Fingers crossed that we'll hear even more about that, too. With Ryzen launching in the first quarter and Vega sometime in the first half of 2017, CES is shaping up to be a major event for AMD—and PC enthusiasts. Stay tuned to PCWorld for all the info as it happens next week.
 source"cnbc"