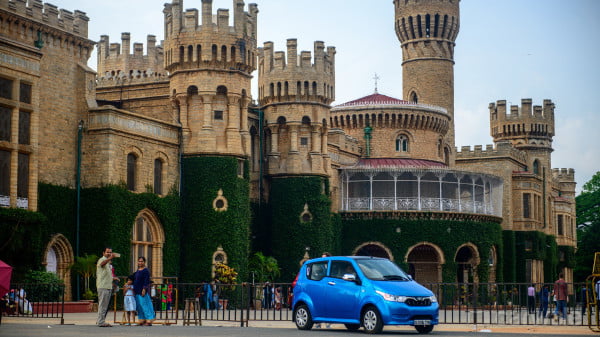 550kms in the Mahindra e2oPlus car? Are you kidding me? It runs a maximum of 140 kms in one charge, that too in ideal conditions. You must be crazy!" exclaimed my colleague Venkat when I told him what I was about to embark upon. And yes, crazy as it sounds, I had already accomplished a 350km long round-trip in the same car (you can read about that here). So I was quite confident of returning triumphant from this one as well.
Traffic snarls aside, Bengaluru is the best city in India to live in if you have an electric car and that is because of the infrastructure that has been built by Mahindra Electric, India's only electric car maker. Bangalore also houses the factory where the e2oPlus is built and naturally it had to be the starting point of our longest journey yet in the Mahindra e2oPlus. After enjoying the tea estates in Kerala, we our next destination was the coffee estates in Chikmagalur. According to the route that we had planned, we would first hit Yediyur, spend the night there, then head to Hassan the next morning and then finally arrive at the coffee estates of Chikmagalur the next day. The entire trip and back to Bengaluru would cover a distance of 550kms.
Yediyur
All great voyages seem improbable, always against the odds. This time, it was the logistics that delivered us the car a whole day late. Nevertheless, we did manage to set out the next day to Yediyur, a nondescript town with just about 100 households. Little did we know that we would be on a wild goose chase of finding a 16A power plug to charge the car after this 105km drive and all I had with me was my faith in humanity!
Mahindra Kochi charged 100 per cent before it left and helped us save precious hours. We reached Yediyur and the odometer read 112 km with a DTE of 31kms and SOC 34 per cent. The four lane highway meant that I could drive at a steady pace, ensuring I make every ampere count and in the process I achieved something special. I exceeded Mahindra's claimed range of 140kms by three but that is not all. Since the SOC percentage read more than the DTE, this meant that I could easily go beyond 150 had I continued to press ahead. But Yediyur had something bigger in store.
This little town is known for its centuries-old Siddhalingeshwara temple. Built in stone in typical South Indian style, the temple stood just hundred metres away from a supposedly massive lake. When we reached the lake, it was a mere puddle, not even as big as a large swimming pool. But the view from that position was unbelievable.
The lake bed was lush green and in the middle of it stood the Indian version of the Stonehenge. Called the Mandapam, this was a four-pillar structure of pure stone, each one weighing at least a couple of tonnes. There were more pillar-like stones strewn around and three comparatively new pillars as well. With my limited (absolutely zero) proficiency in Kannada, we couldn't get any details about the vintage of this structure, but it certainly pre-dates the temple.
[Source"timesofindia"]