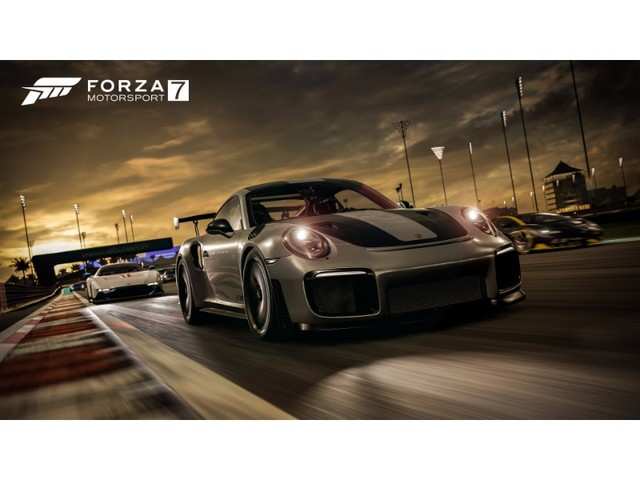 Driving or car racing games need to have the X factor which makes gamers come back again and again for more. While it's true for most games it perhaps its more vital for racing games to have this ability. Microsoft's flagship racing franchise, Forza Motorsport over the years has managed to build quite a fan following with exciting gameplay, great cars and some of the best circuits of the build. Forza Motorsport 7, the latest addition to the franchise, retains all the elements and has made exciting additions. We spent quite a few hours playing Forza Motorsport 7 and this is our review of the game:
Story and Setting
To begin with Forza 7 gives you a glimpse of what lies ahead through three one-lap events. Once you get used to the driver aids which help you with steering and brake assistance, ABS, driving line indicator. The real meat in Forza 7 lies in the Forza Drivers' Cup or the Career Mode of the game. Here you can choose from various racing series. As you finish races, you earn your spurs in form of Series Points. The more points you accumulate, the higher you move up in the tier. There are two tiers in Forza Motorsport 7 – a driving level one and the other being car collection one. As you move up in driving level you can collect rewards in form of choice of cars, racing suits and in-game credits.
The game lays a lot of emphasis on collection as there is a system called Mods which as extra challenges. These challenges could be like driving in the rain or finishing first in a particular race. It is a feature which we thoroughly enjoyed as it makes the game challenging.
Gameplay
As far as car games are concerned, one looks for three essential things: cars, tracks and the detailed graphics. On all three counts, Forza Motorsport 7 scores handsomely. You can select from a lot of driving views in Forza Motorsport 7. There's the cockpit view – our most preferred one – makes handling the car relatively easy. Surprisingly, there isn't roof view which could have been a handy addition. There are some excellent cars to drive in the game. You can choose from NASCAR machines or vintage formula One cars. There are also powerful sports cars from Honda and Mazda.
Driving cars in Forza Motorsport 7 isn't easy per se. You will crash on the first corners multiple times as performing manouevres isn't a cakewalk. Be prepared to crash and learn as it takes time to get used to the driving techniques.
The tracks are where the real fun and authenticity comes in play in Forza Motorsport 7. The driving experience in city-like conditions or in a desert terrain is a lot of fun. The game developers have paid a lot of attention to detail and it certainly stands out. The option of changing weather modes on tracks adds to the whole experience. Get the right car and perfect weather setting and you can play this game for hours. There is a lot of throwback to old Formula One tracks which will appeal to motorsports fans. There iconic tracks like Silverstone, the Nurburgring along with long road circuits.
The soundtrack of the game isn't jarring and syncs perfectly with the game. The noise the cars emanate are simply excellent.
Verdict
Forza Motorsport 7 is an extremely enjoyable game which will make you want to play for hours. The selection of cars, the choice of tracks and the Drivers' Cup add to the excitement and enjoyment. If you're a fan of car racing games, this is a game which will click with a lot of serious as well as amateur gamers. The Standard Edition of the game is available for Rs 3,999 for PC version whereas the Xbox version retails for Rs 3,999.
SEE ALSO
Mass Effect Andromeda Deluxe – PlayStation 4
₹ 807.95
Seagate STGD2000400 Game Drive for PlayStation 4 2TB
₹ 6068.18
iVoltaa HDMI Cable 2 Mtr (4K UHD HDMI 2.0 Ready) – Braided Cord – Ultra High Speed 10.2Gbps – Gold Plated Connectors – Ethernet & Audio Return – Video 4K 2160p HD 1080p 3D – 4K TV Xbox PlayStation PS3 PS4 Pro PC Apple TV LeTV Samsung Sony LG Infocus Vizio
₹ 549