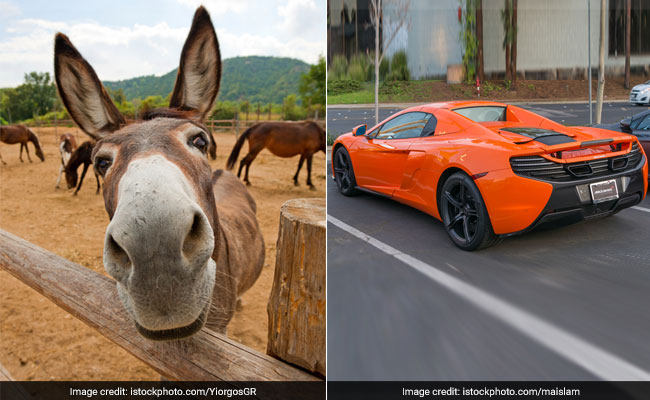 How's this for bizarre? A German court has ordered a very hungry donkey's owners to pay up 5,800 euros, approximately $6,800, to a McLaren sports car owner as compensation for damage caused after the silly animal bit into the vehicle. German police suggest the donkey "mistook" the bright orange luxury sports car parked next to its enclosure for a giant carrot.
According to the BBC, Markus Zahn parked his orange McLaren 650S Spider – a car worth approximately 310,000 euros or $365,100 – near an enclosure where the guilty donkey was grazing last year in the German state of Hesse.
"I looked into the rear-view mirror and suddenly saw a pair of fluffy ears! And then I heard a strange sound," Mr Zahn told the German tabloid Bild. "The sound came from a donkey, who was gnawing at my fender."
The donkey reportedly damaged the paintwork.
The Telegraph reports the owner of the donkey refused to pay for the damage, saying the McLaren driver should have parked elsewhere. That's when the sports car owner went to court.
For his part, Mr Zahn doesn't seem too angry at the donkey.
"The donkey probably thought the car was a carrot on wheels. I'm not mad at him," the Telegraph reports him as saying.
However, we're not sure the same can be said for the animal's owners. The silver lining? They can still appeal the court's decision.
["Source-ndtv"]