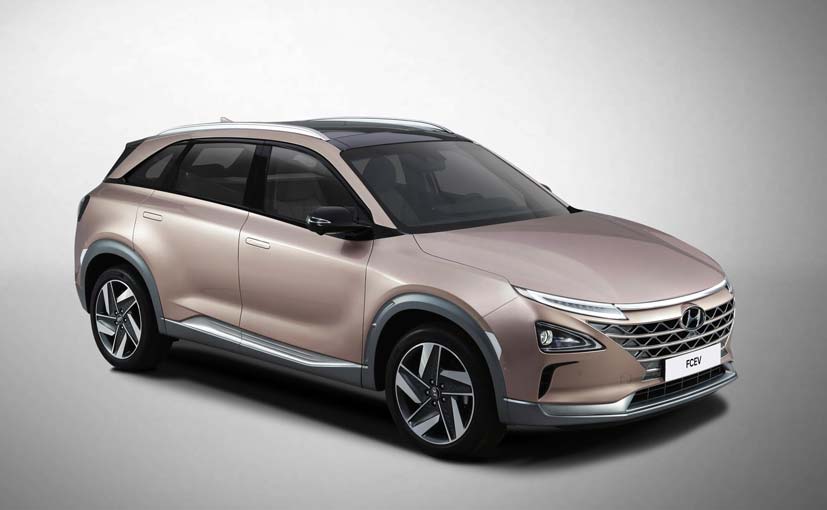 Hyundai Motor will showcase a trio of new technologies at CES 2018 at the Las Vegas Convention Center, all focused on connecting future technology with evolving mobility challenges. Hyundai's next-generation hydrogen-powered fuel cell electric vehicle equipped with new Advanced Driver Assistance System (ADAS) technologies will be featured and its new name revealed. The new fuel cell EV is the newest edition to the Hyundai's eco-vehicle portfolio and it will help to fulfill Hyundai's vision to offer clean mobility to the world.
The Hyundai FCEV was showcased at a special event organized in Seoul, South Korea last year, which was also the first time the South Korean company unveiled its version of a fuel cell concept vehicle and that too an SUV. The company says that the SUV will be hydrogen powered and it will launch the SUV this year. This also showcases the intent of the company to put its focus on green vehicles and chart out a development roadmap along the same lines.The design of the Hyundai FCEV is rather futuristic. The front end looks rather sharp with scimitar-shaped headlamps, a V-shape grille with a wave-like pattern. The alloys look cool with its shuriken design. The Fuel Cell SUV will use the company's fourth generation of hydrogen fuel cell technology, which was first created in 2013. The company is aiming to provide the Fuel Cell SUV with a range of 800 km on a single charge. The company claims that the SUV will have an output of 161 bhp.
In addition, Hyundai will connect its progress on hydrogen-powered mobility to hydrogen-powered applications in the home via a section of the booth dedicated to the Hydrogen Life Vision. Rounding out Hyundai's future technology demonstrations will be a reimagined view from the driver's perspective inside the Intelligent Personal Cockpit, featuring artificial-intelligence-enhanced voice recognition and vital sign-based wellness care, all from the comfort of the driver's seat.
["source=auto.ndtv"]