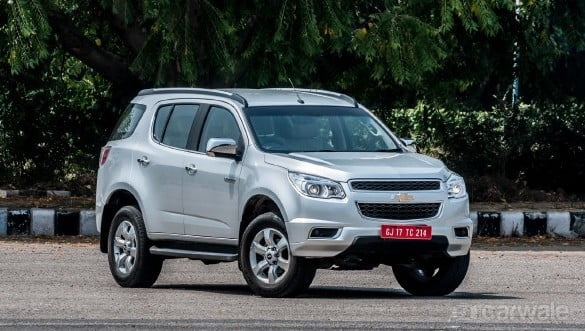 November 2016 automotive sales were believed to be just an initial reaction to demonetisation with the real effects expected to be seen in December. While many experts and intellectuals predicated a washout, the market has turned out to be the leveller. Yes, the sales are slow and lower than what manufacturers would have wanted for their year-end high, but, it is heartening to see how the market has steadied itself. In the process, we have some cars who have recovered well and some that held their fort in the beginning, but could not for long.
Winners:
Hyundai Tucson
Hyundai's latest SUV, the Tucson, seems to have hit the right note. The premium SUV that costs upwards of Rs 20 lakh has overcome demonetisation, selling 424 units as against the 262 units in November. Hyundai would be positively tracking the customer base in its attempt to consolidate the premium market, something its primary target, Maruti Suzuki, has been unable to do.
Chevrolet Trailblazer
This big burly SUV from Chevrolet was the first of the new modern SUVs in India but got quickly side-lined with the new Santa Fe, Endeavour and now the Fortuner. With the average sales over the last six months not getting beyond a hand, December has been blockbuster with 27 cars sold.
Honda Amaze
The Amaze sales halved in November to less than 2,000 units but the compact sedan has bounced back quickly to regain lost ground. Though the sales aren't anywhere close to its competitor, the Swift Dzire, the sales are now over the six month average before November 2016.
Losers:
Maruti Ciaz
Expensive Marutis have always been tricky for the Indian giant. The Ciaz took more than a year to get foothold in the C-segment and its rise was aided by the dated Verna and the expensive Honda City. We thought the Ciaz, with its Maruti badge had bucked the trend in November but with the sales halved in December, it is our biggest loser.
Ford EcoSport
So was the case of the Ford Ecosport. The November sales were almost as strong as the usual – around 4,000 units a month. Well, December hasn't been kind to Ford with their bestseller taking a hit for more than 50 per cent. With the Figo not doing well, the American dream rests on the Endeavour and the Aspire.
Tata Tiago
The Tiago has been Tata's lone warrior through 2016 and it has taken the hit as well. The sales of the Tata Tiago have gone south by a third but the puny little hatch should bounce back next month and with the Hexa to back it up, Tata should be looking forward to 2017.
source"cnbc"