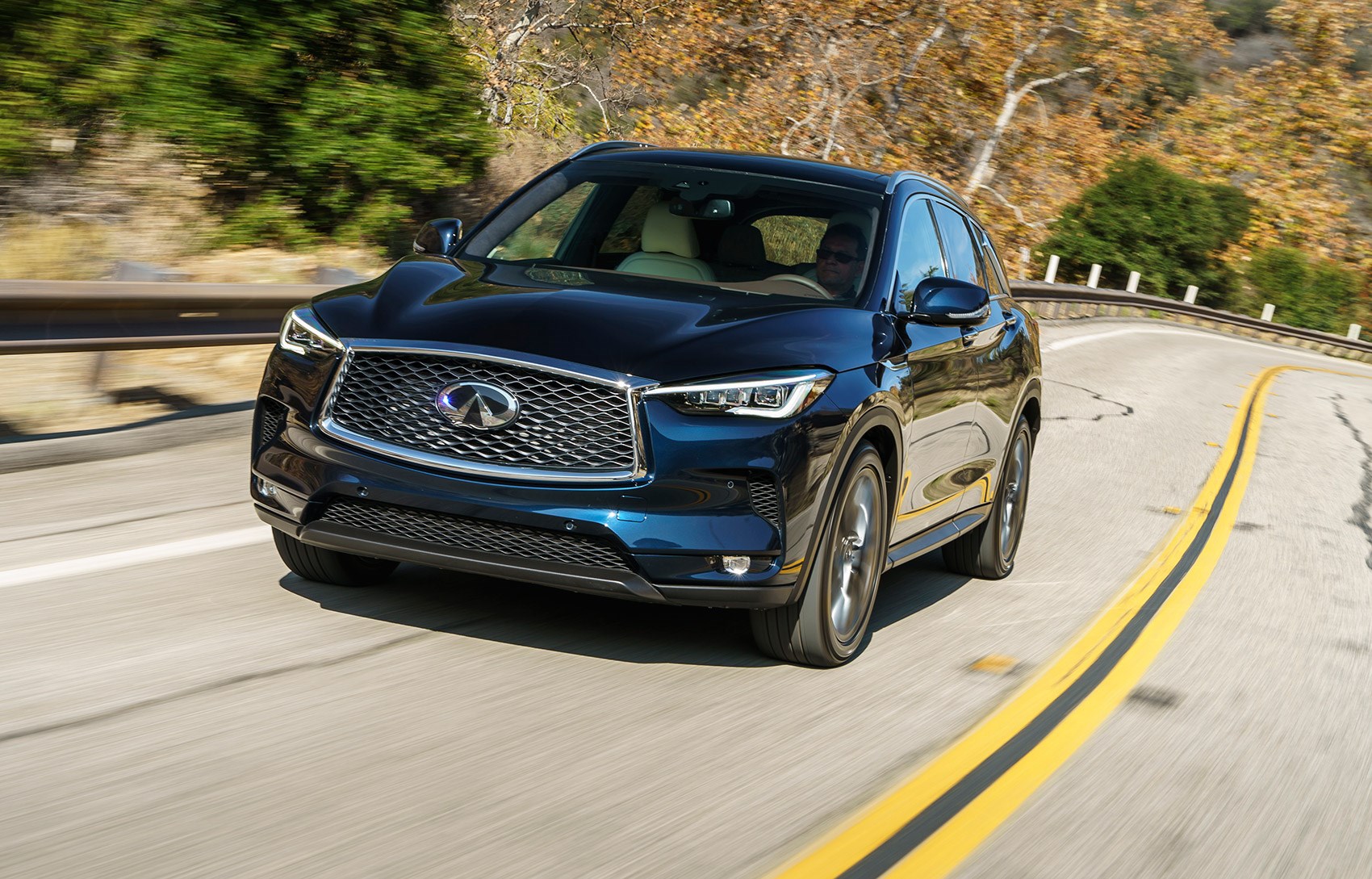 Is this new QX50 the car to see Infiniti finally break through into the consciousness of mainstream car buyers in the UK?
As things stand, you'd certainly put a healthy handful of 'Ayrtons' on a positive outcome that's for sure. After all, British drivers don't seem to be able to get enough of crossovers at the moment, especially those with a premium badge, and this QX50's concept of a high-tech, variable-compression turbo petrol engine with diesel economy looks to be perfectly timed in the current climate.
So does Infiniti QX50 deliver? Read the full CAR magazine review to find out.
Browse used Infiniti cars for sale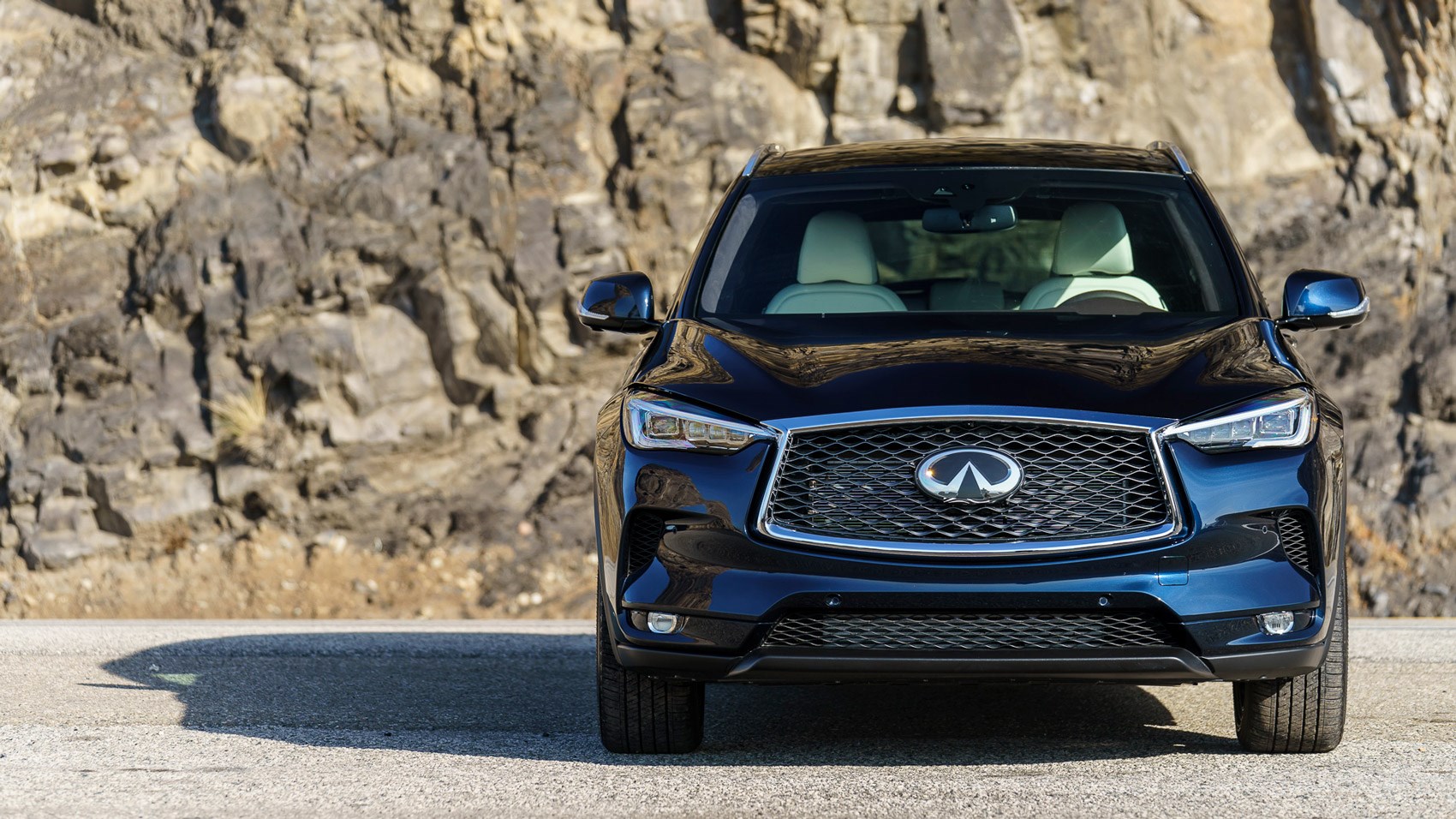 Infiniti QX50 review: petrol performance but diesel economy?
Doesn't it just… The reality is that others such as Mazdahave also got variable-compression engines on the horizon, but Infiniti has got there first – some 20-odd years from when it first started looking into the challenging technology involved.
Certainly on paper the QX50 looks impressive enough. The 2.0-litre turbo produces 268bhp, enough to get it from 0 to 60mph in 6.3 seconds and onto a 143mph top speed.
The QX50 will be available in both two- and four-wheel drive versions, although all will be fitted with CVT automatic gearboxes with a manual shift to mimic a more conventional eight-speed auto – more of which in a moment. This will be the only engine available in the QX50 as there won't be any diesel or hybrid versions.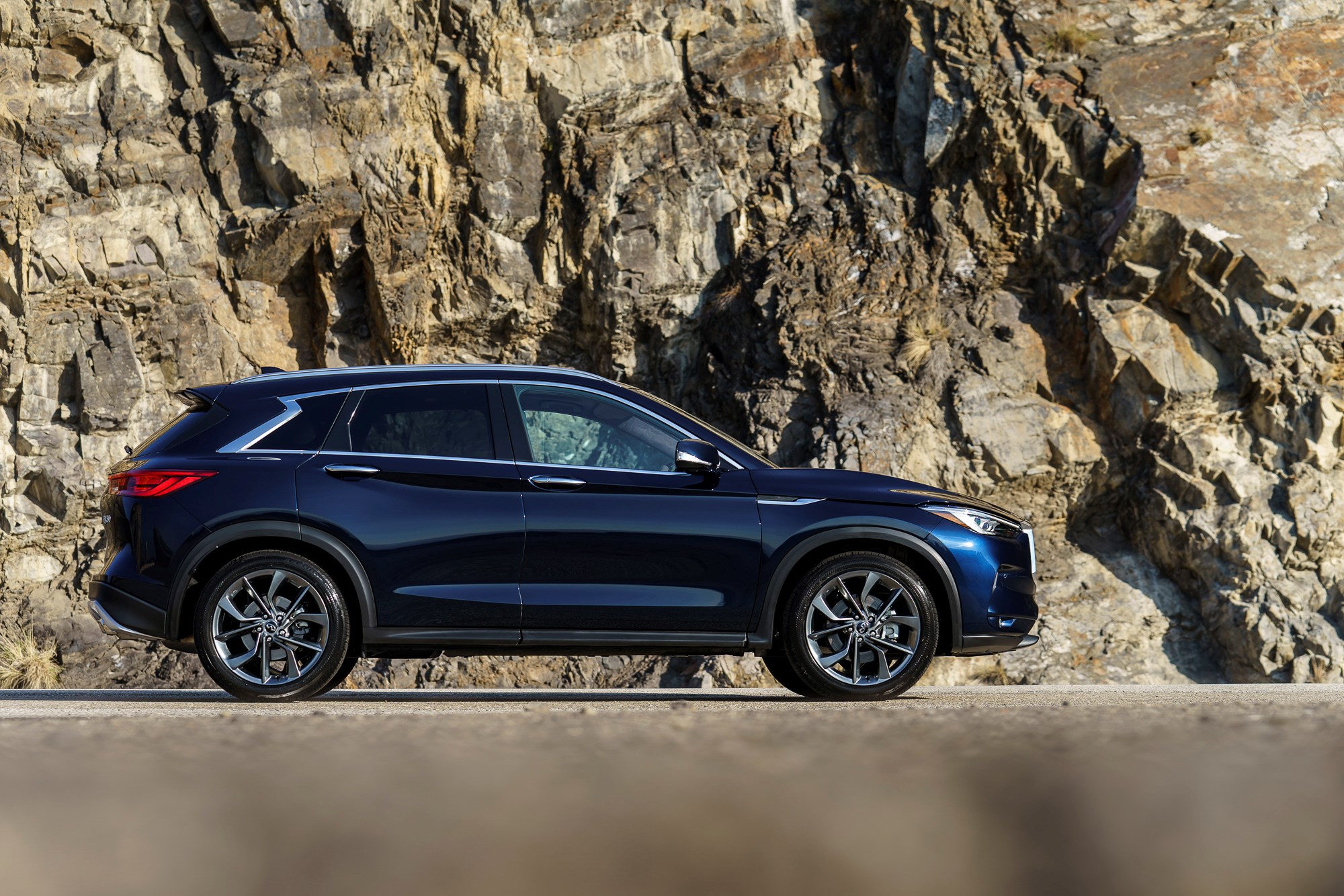 Infiniti has yet to homologate the QX50 for Europe, so has yet to issue any European fuel economy or emissions figures. Roughly converting the US figures though suggests it will be around 35mpg and 187g/km. We averaged 28.2mpg with some lengthy periods of hard driving over mountain roads and the air conditioning on full time, so that 35mpg isn't entirely out of reach.
Sadly, it also means that it won't be sold in the UK – with a year-long wait for right-hand drive deliveries here.
Infiniti QX50 review: how does it drive with this new engine?
The good news first. That engine is very impressive and while there's a power/eco gauge to tell you which mode the VC engine is in, soon you don't give it much thought and any switch is imperceptible. The engine itself is smooth, has a good amount of low-down torque and can accelerate quickly when you go for an overtaking manoeuvre or a quick burst of speed. During normal traffic conditions, it's well matched to that CVT gearbox too (certainly not something we expected to be writing) and any wind and road noise are kept well insulated from the cabin, making it pretty refined. The ride quality, even on 20in wheels, isn't bad either – even on broken roads.
And now to the bad. For all the merits of that well-matched engine/gearbox combo, there's still no escaping that inevitable CVT drone at higher revs or when pressing on. Don't get us wrong, it's not as bad as CVTs of old, but you could never imagine the likes of BMW or Mercedes engineers signing it off for approval. It's helped somewhat by the gearchange paddles behind the steering wheel, but the flip side is that in Sport mode, the QX50 also pipes extra engine noise through into the cabin which does it no favours whatsoever.
Plus, while there's little body roll through bends and plenty of grip, the steer-by-wire system that Infiniti takes advantage of with its clever new Propilot Assist system for semi-autonomous driving makes it feel like the steering wheel is attached to a bowl of Ambrosia's finest. It might be enough to make keen drivers consider looking elsewhere, but then nobody ever bought a Lexus NX or Volvo XC60 for their involving steering feel.
Infiniti QX50 review: will the interior at least put a smile on my face?
Thankfully, possibly yes. It may not be saying much, but this is easily the best interior that we've ever seen from Infiniti. The use of materials, design, fit and finish and build quality are very good indeed. The two touchscreens – the lower one for the car controls, the upper one for the sat nav – are pretty intuitive and easy to navigate your way through. It's also well equipped with heated and cooled seats, a head-up display, panoramic roof and an electric tailgate. A high-end, 17-speaker Bose stereo will be an option.
There's also a lot of space. With masses of head and legroom for adults in the back (Infiniti claims more rear legroom than the Q5, X3, XC60 or GLC) and there's a good-sized boot too. The rear seat can also slide for extra room for legs or luggage.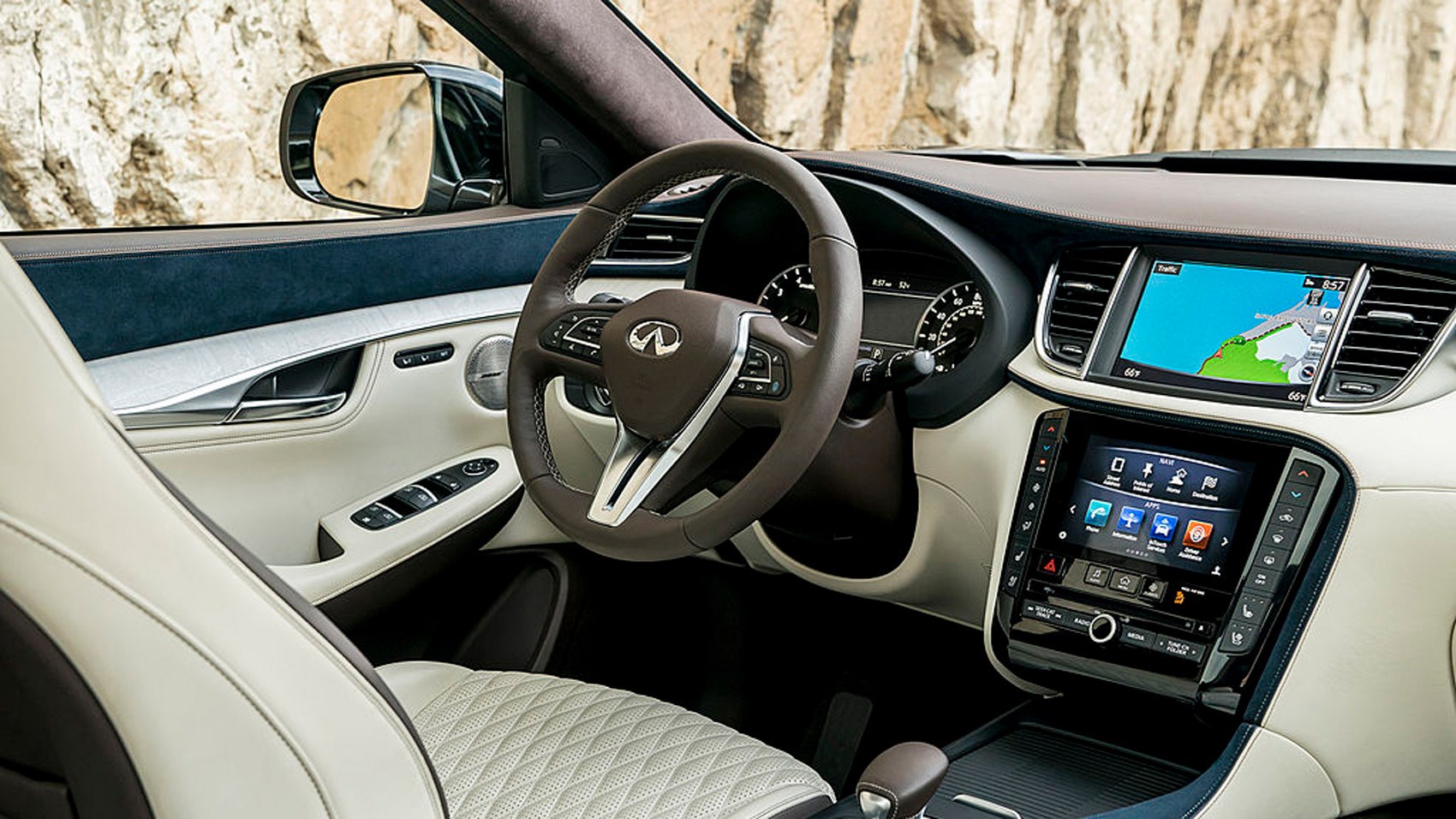 Sounds good, so what's the catch with the new 2018 Infiniti QX50?
Aside from it not arriving in British showrooms until early 2019, the catch still comes with that engine choice. Or more to the point, the lack of it. For all the smart technology and the cleverness behind this engine and even with the general diesel downturn, this market is still dominated by diesel sales.
Perhaps in the next 11-12 months before the QX50 arrives, the petrol engined market will start to come towards Infiniti, but not offering a choice, even with a hybrid like the Lexus NX, is sure to hurt its fortunes in the longer term.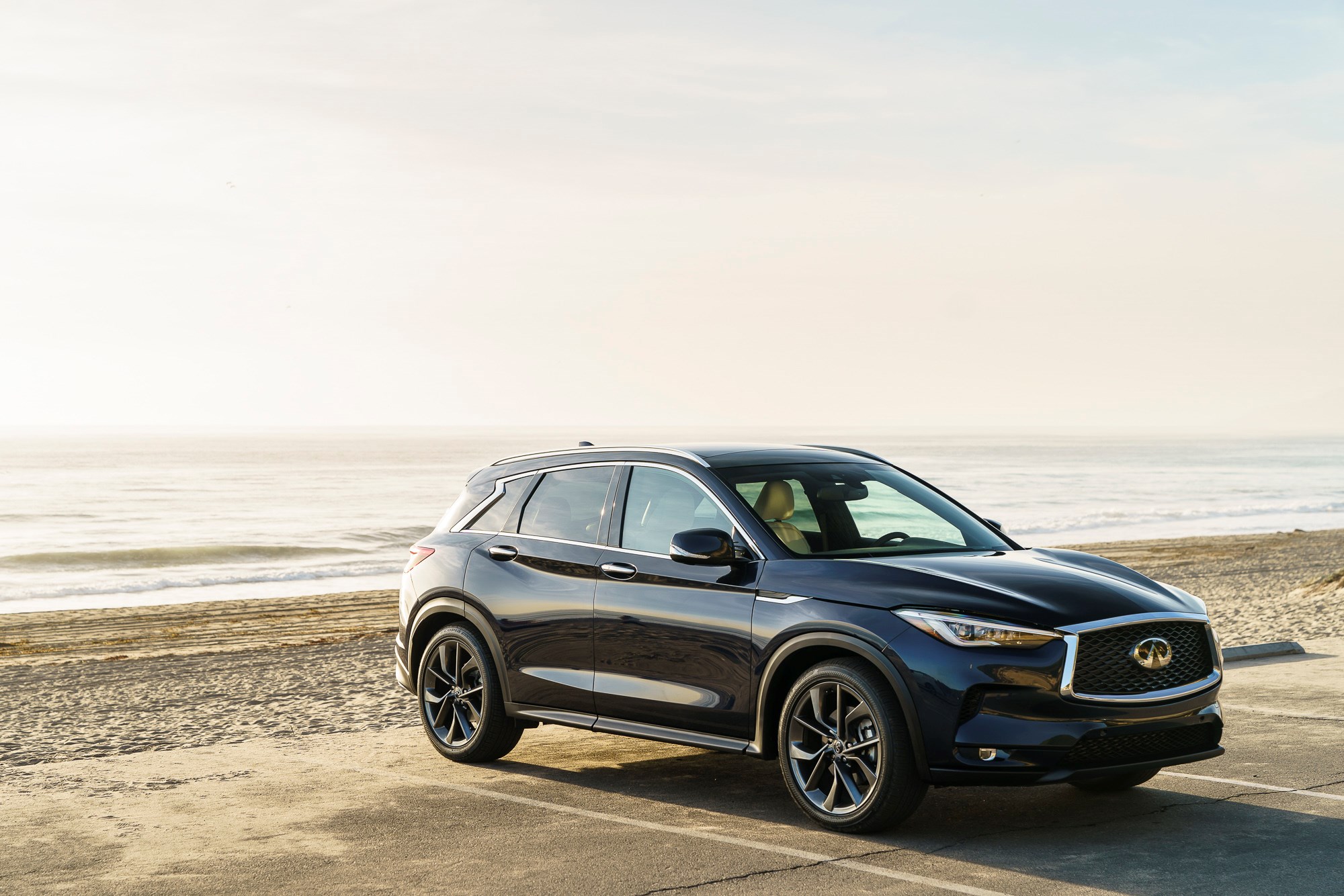 That's a shame because on first acquaintance, we think the QX50 probably deserves greater recognition that it can achieve given those inevitable restrictions, even as an alternative choice.
Infiniti boss Nicolas Tschmann reckons that this is the best car Infiniti has made so far – and we're inclined to agree.
["Source-carmagazine"]