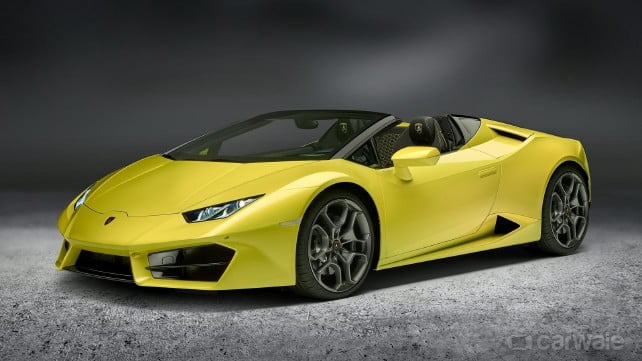 Lamborghini will launch a third iteration of the Huracan in India on February 1. Dubbed the Huracan Spyder, this rear-wheeled Bull will join the standard Huracan Coupe and Spyder in Lamborghini's Indian portfolio along with the special edition Avio.
The Huracán RWD Spyder is one of the four variants that make up the baby Lambo lineup. It is powered by the same 5.2-litre naturally aspirated V10 which produces 580bhp of power and 540Nm of torque. The madness from the V10 reaches the rear wheels via a seven-speed dual clutch transmission. The acceleration from 0-100kmph takes of 3.6seconds (which actually makes it 'slower' than its three siblings by 0.2 seconds!). It has a top speed of 320 kmph.
The rear wheel driven Spyder has a redesigned front and rear with larger front air intakes. The Pirelli PZero tyres have been wrapped around 19-inch wheels and have been specially designed for this car. Being a Spyder, it is marginally heavier at 1,509 kg with a weight distribution of 40/60. The car comes with all the driving aids and electronic gizmos the Italian manufacturer has to offer.
The price for the Lamborghini Huracán RWD Spyder is expected to be around Rs 3.80 crore when it is launched. We will bring you all the details from the launch and until then, you can read about our experience with the all-wheel-drive Huracan Spyder that was the 'chief guest' at the inaugural CarWale Track Day held at the end of last year.