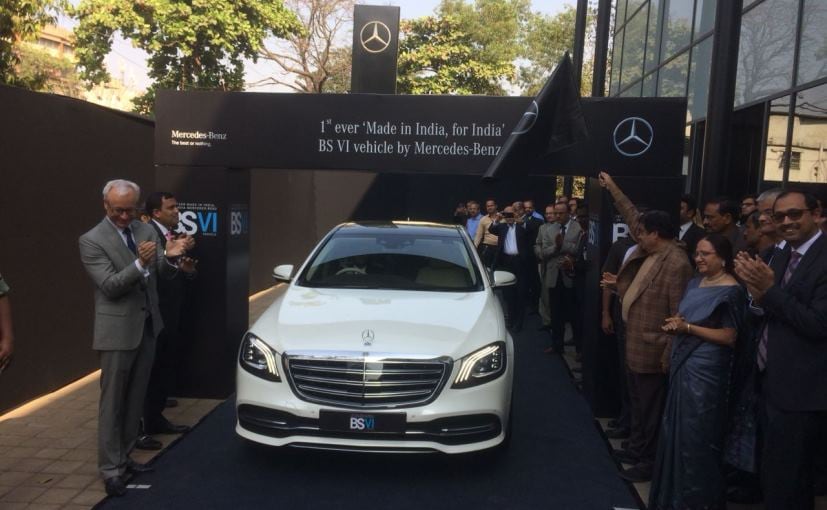 Mercedes-Benz today launched its BS-VI compatible vehicle in India and it was the company's flagship model, the S-Class, that became the first BS-VI vehicle in India. The 'first' bits do not stop there as it's also become the first ever 'Made in India, for India' BS-VI vehicle from Mercedes-Benz. It was in 2016 that Mercedes-Benz India first made a commitment to be ready with its BS- VI vehicles. In fact, last year the carmaker confirmed that it will shift to BS-VI in 2018, and now it's here.
Roland Folger MD, CEO, Mercedes-Benz India said, "We are glad to fulfil our commitment to the customers and to the Government's Vision of 'Make in India'. The introduction of India's first BS VI vehicle is a significant milestone and we strongly believe that this will pave the way for other manufacturers to introduce BS VI vehicles in India."
Now the biggest question on everybody's mind is how will the BSVI compliant vehicle deal with BS IV fuel that is currently available across the country. Well, Mercedes-Benz has answered that too. The company announced a technical breakthrough which will see the BS VI car work effortlessly on Inferior BS IV fuel. The PM limit in the BS- VI diesel engine is lower by 82% than the BS-IV and NOx emissions are reduced by 68% leading to a reduction in the gap between petrol and diesel emissions.
The Mercedes-Benz 350d will be the first car to come with this state-of-the-art engine and exhaust after-treatment technology. The new six-cylinder engine gets the stepped bowl combustion process, two-stage turbocharging and the use of CAMTRONIC variable valve lift control. Its design features a combination of an aluminium engine block, steel pistons and Nanoslide coating for the cylinder walls to reduce friction.
["source=auto.ndtv"]