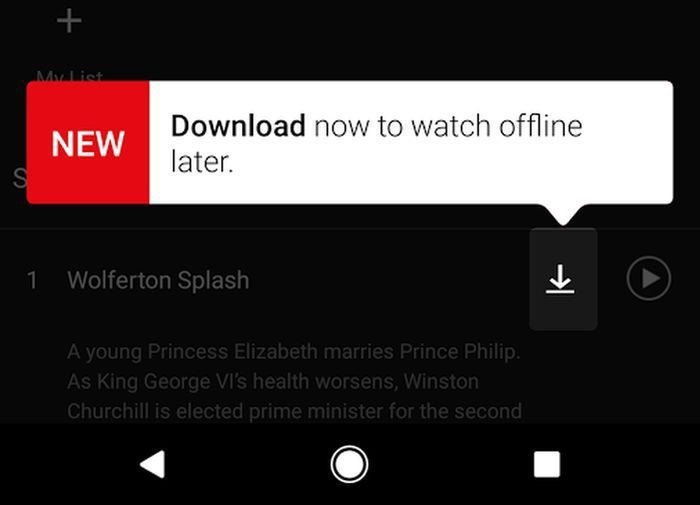 Netflix shocked the world last year when it finally allowed many of its popular shows and movies to be downloaded for offline viewing, with nary any restrictions on how much you could save. Now it's making the feature a little sweeter for Android users who are running out of space on their phones.
One of the advantages Android phones have over iPhones is the availability of SD card expansion. On many handsets you can pop out the SIM card tray and add in a tiny storage card, so you won't regret not getting a 64GB phone instead of a 32GB one. The expansion slot is great for storing photos and files that would otherwise fill up your phone's internal storage, and now you can use it store Netflix movies and TV shows, too.
The latest version of the app adds a new option in App Settings for Download Location. Tap it and you'll be able to select whether you want to save your show to your phone's internal storage or the SD card, potentially opening up hundreds of gigabytes of space for desert island binge watching. You can even save shows to multiple cards.
Otherwise, the feature works as it did before. If a program is available for offline viewing, you'll see a download arrow icon on the preview page, either next to an episode or in the movie description. Tap it and it will instantly begin downloading, and you can view your entire library inside the My Downloads tab.
However, you won't be able to create a permanent library of your favorite shows. Once you download something, you have a limited time in which you can watch it, and it varies depending on the show. Some have 48-hour windows, and others are a week or longer. If a show has expired, you can quickly download it again by renewing it from the My Downloads tab inside the app, though you'll need to be connected to the internet for it to work. And Netflix warns that some titles may only be renewed a certain number of times.
Why this matters: Offline Netflix viewing has forever changed our viewing habits, but clogging our phones with episodes of Stranger Things has become a headache. Saving shows and movies to an SD card may seem like a small feature, but it could make a big difference for Netflix bingers who are short on space.
This story, "Netflix now lets you save downloads to your Android phone's SD card" was originally published by Greenbot.
To comment on this article and other PCWorld content, visit our Facebook page or our Twitter feed
source"cnbc"