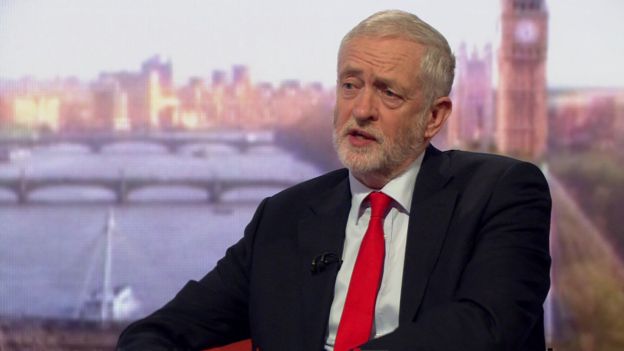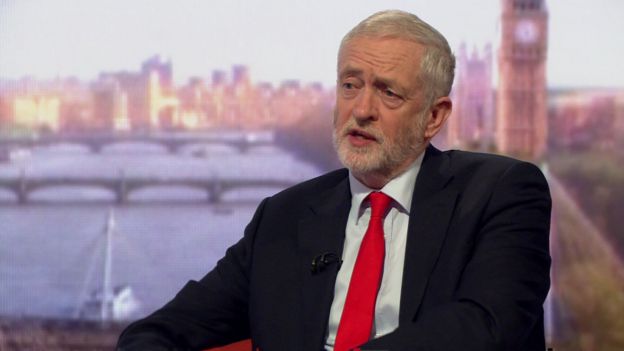 Labour's planning to nationalise parts of the energy industry and scrap university tuition fees, according to a leak of a draft version of the party's election manifesto. The document, seen by the BBC, also says leaders should be "extremely cautious" about using the Trident nuclear deterrent.
The manifesto still has to be approved by 80 Labour figures, so how did it get out ahead of time? A spokesman for leader Jeremy Corbyn declined to comment on the leak, which the Conservatives described as a "shambles".
Analysis: What does the leak say about Corbyn's plans?
By Laura Kuenssberg, political editor
From what we have seen, which Labour senior figures acknowledge "is the real thing" subject to a few last-minute tweaks, it is a rundown that will be manna from heaven for Jeremy Corbyn's supporters, containing ideas that poll well with swathes of voters, but could be a challenge to the concept of pleasing much of the traditional centre ground of "Middle England".
What the papers say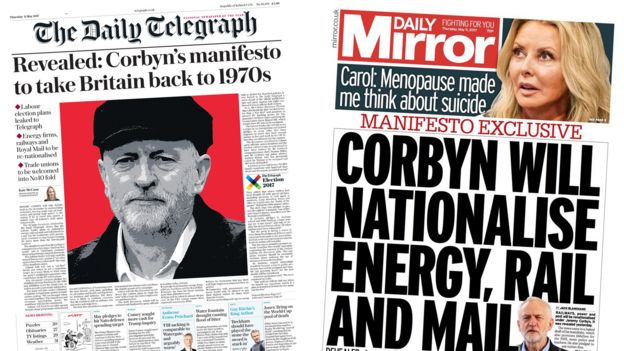 The leak of Labour's draft manifesto is all over several front pages. The Daily Mail states that it would "drag us back to the 1970s", while the Mirror prefers to focus on what it calls Jeremny Corbyn's plans to "fix rip-off Britain, boost NHS, schools and scrap tuition fees". Meanwhile, the Times reports that relations between Prime Minister Theresa May and Chancellor Philip Hammond have deteriorated, with differences on policy and presentation blamed.
Daily digest
Obesity cost – Hundreds of thousands spent on ambulances for overweight patients
Syria war crimes – Asylum seeker given life sentence in Austria
Housing market – Surveyors predict flat market over summer
Policy tracker – What have the main parties pledged so far during the election campaign?
If you watch one thing today

The Irishman who saved FC Barcelona
If you listen to one thing today

How the 1987 Aids campaign changed us
If you read one thing today

The day an elephant killed my daughter
Thursday lookahead
09:30 NHS England publishes hospital waiting times for March.
12:00 The Bank of England releases its quarterly inflation report.
20:00 The second Eurovision Song Contest semi-final takes place in Kiev, Ukraine.
20:00 Manchester United play Celta Vigo in the second leg of their Europa League semi-final, with a 1-0 lead over the Spanish side from last week's first leg.
On this day
1971 The Daily Mail's sister paper, the Daily Sketch, closes after 62 years of publication.
1985 A fire at Bradford City's Valley Parade stadium results in the deaths of 56 people.
["Source-bbc"]