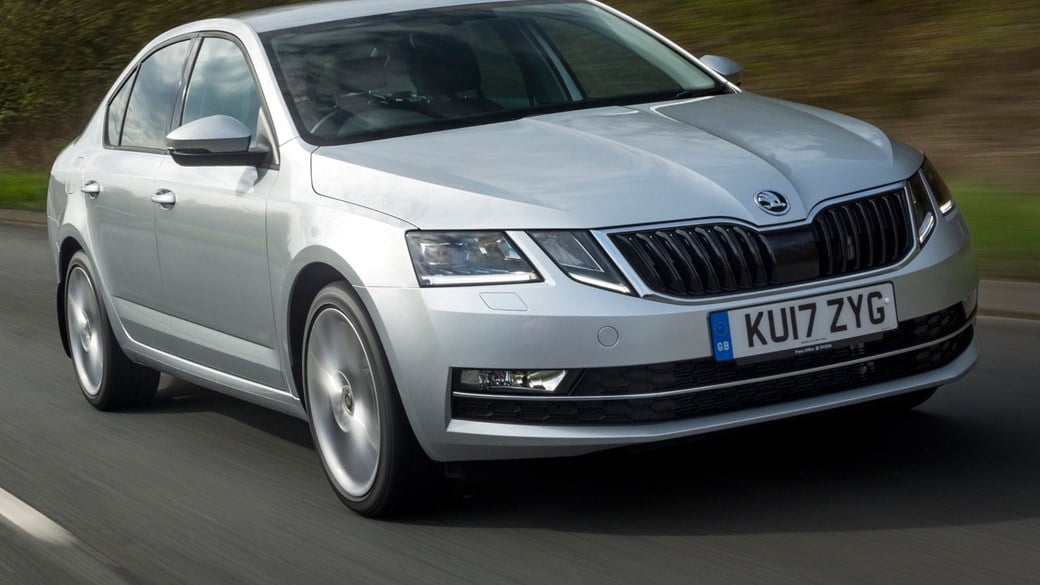 It wasn't so long ago that the idea of a three-cylinder petrol engine in a Skoda Octavia would have been considered a ludicrous proposition. A heavy-oil burner at heart, it looked like it was made for the torquey, lazy nature inherent of the black stuff.
However, these are uncertain times for the humble diesel engine and the Octavia needs to ready itself for a change of allegiance. With hybrid still a way off for Skoda, pint-sized petrols appear to be the only way forward for a frugal Octavia. Can this freshly-facelifted version of Britain's favourite minicab really work in the real world? Read on to find out.
Does it even move?
Yes – far more so than you'd expect. Low-powered Skoda's seem to have a habit of feeling far punchier than their figures suggest, and this 1.0-litre Octavia is no different.
Power and torque are rated at an unremarkable 113bhp and 148lb ft respectively, but there's seldom a sense that the three-pot motor is struggling. Much of this may be down to a 300kg weight saving over the 2.0-litre diesel model.
Pin the throttle and there's the characteristic delay of most forced induction three-cylinder motors as the revs and turbo get their act together, but from then on in there's a strong slug of power peaking at 5,500rpm.
Acceleration to 60mph is adequate, just sneaking under double figures at 9.6 seconds, while top speed is 126mph. It's quiet, too; so much so that with the radio on we almost didn't notice the motor revving freely towards its redline.
There's also a good spread of torque, meaning you can leave the numb but easy-to-use six-speed manual 'box in a high gear and keep up with other, larger displacement vehicles. The only difference being you'll be basking in the smug eco-friendly glow of 110g/km of CO2 and a quoted 58.9mpg. Drive the Octavia with any real verve however and you'll soon see the latter tumble.
Hills are an issue, too. You'll get up them alright, but compared to the 1.6 TDI model the petrol three-pot lags noticeably behind.
So it goes, but is it fun to drive?
Unfortunately not. You've got to remember that Octavia has been set up to be anything but sporty – and this shows in the bends. Tip it in a reasonable lick and, unsurprisingly, there's a good dose of body roll as the comfort-orientated suspension hauls the bloated body past the apex and towards corner exit.
It never feels unstable though and the soft but predictable suspension copes well with the mid-corner undulations of your average British B-road. In fact, if you can keep the engine in its torque band and subscribe to the safe & stable Skoda way, it's possible to punt the Octavia along a twisty, flowing road at surprising speeds.
And, unfortunately, that's about as good as it gets. Pile into a corner with too much speed on and predictable understeer is the order of the day, but that's about it. There's no real sense that you can adjust your line or bring the back into play with a lift of the throttle. Competent? Yes. Fun? No.
Sure, it's not been designed for driving thrills, but similarly-priced Focus and Leon rivals manage to inject a sense of fun alongside practicality.
The three-cylinder engine adds enjoyment, but only to a certain extent. As we mentioned earlier on, it's happy to chase the red line – even if it does run out of puff when it gets close – and the rumbling three-pot sound isn't half bad either. It just needs a slightly more adjustable chassis to go with it.
But it does the comfortable cruiser bit ok, right?
Indeed it does. The steering, while not especially direct, is accurate enough and works nicely around town and on the motorway. There's also a predictably soft ride, ironing out 85% of what the British roads have to throw at it.
It's not perfect though; hit a large pothole or badly-pockmarked piece of tarmac and the dampers struggle to react fast enough to keep things smooth and composed. Not the end of the world, but perhaps a disappointment for drivers expecting class-leading comfort.
Any nifty bits of kit?
Apart from the mildly restyled front and rear end, the facelifted Octavia also gets an upgraded infotainment touchscreen – the eight-inch Amundsen system available as a £750 option. And as touchscreens go it's really rather impressive.
The display is bright and clear, plus the responsiveness is a real step-up over the previous technology. Scrolling down through listed menus – a traditional bugbear of in-car touchscreens – is super easy and accurate, getting ever closer to iPod levels of user-friendliness.
Verdict
The Octavia proves that small, three-cylinder engines can and do work in cars as practical and roomy as Skoda's large family hatch. Would we buy one over a diesel? Yes, especially if visits to city centres are more frequent than long motorway runs.
As for the rest of the car, the 2017 update may have brought about new tech and updated exterior styling, but the recipe underneath is still the same. Outright competence by means of safe, sensible affordable transport.
It could be more entertaining to drive, yes, but most customers will care little for B-road thrills. Skoda knows what the Octavia excels at and delivers accordingly.