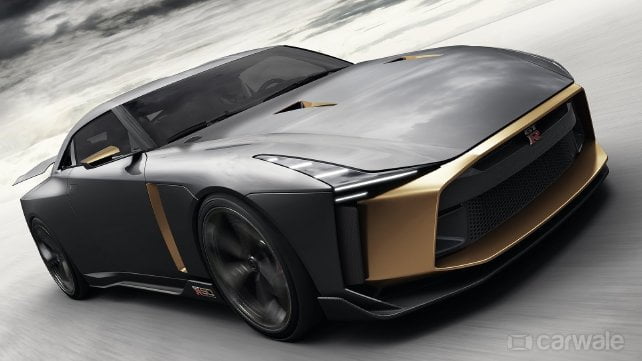 •    Nissan has collaborated with Italdesign for the first time.
•    The GT-R50 is a "GT-R designed with no limits", will be revealed in Europe next month.
•    Italdesign developed, engineered and built the car while Nissan's European and American Design team did the styling.
Nissan and Italdesign have come together for the first time in history to create a bespoke prototype vehicle – the Nissan GT-R50. The GT-R50 celebrates the 50th anniversary of both the GT-R and Italdesign, the design and engineering house based in Moncalieri, Italy.
The GT-R50 is based on the GT-R Nismo, but it is engineered and built by Italdesign while the styling is done by Nissan Design team in London and America. The GT-R50 appears to be a GT-R from the future. It is finished in Liquid Kinetic Gray paint scheme. There are Sigma Gold panels running inside the body from nose to the tail. The V-Motion grille of the GT-R is replaced by the golden gaping nose surrounded by aggressive aero bits. There is a pronounced bulge on the hood to add to its character.The sleek LED lights are reminiscent of the first GT-R prototype.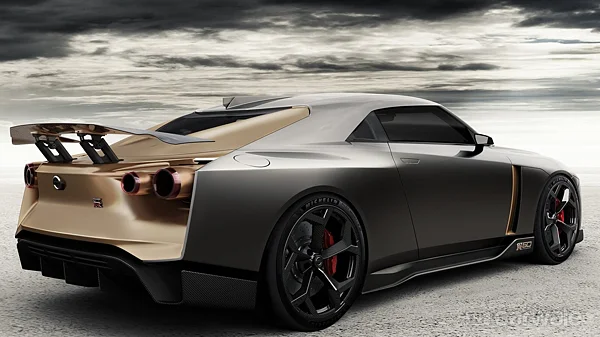 The iconic roofline of GT-R is lowered by 54mm and has a double-bubble type roof with a sharp fin on top of it. The famous "samurai blade" vent behind the front wheels gets even more prominent design with golden inlays. The rear window gets a new tapered design finished in gold. The rear appears to have a separate modular element from the rest of the car. The iconic quad circular tail lights are present as well albeit in a 'floating' style with hollow centres. Other highlight at the rear are the massive diffusers and the large adjustable wing. The GT-R50 sits on custom made 21-inch wheels.
On the inside, Italdesign has added carbon fibre finishes on centre console, instrument panel and doors. The black Alcantara wraps the seats and steering with contrast gold stitching. The switchgears are race car inspired.
Under the hood is the NISMO tuned VR38DETT engine from Nissan's GT3 race car. The 3.8-litre V6 produces 720bhp and 780Nm. The engine is tuned with larger, twin high-flow, GT3-spec turbochargers and intercoolers, heavy-duty crankshaft, pistons, rods and bearings with high-flow oil jets and injectors. A reinforced dual-clutch sequential six-speed rear transaxle and stronger differentials and drive shafts sends the power to the wheels. Other updates include Bilstein adjustable suspension, Brembo six- and four-piston brakes, and Michelin Pilot Super Sport tyres.
The Nissan GT-R50 by Italdesign will debut next month in Europe. It will most likely remain a prototype with no chances of turning into a reality. Although, it will surely make its way to video games.
["source=vogue"]