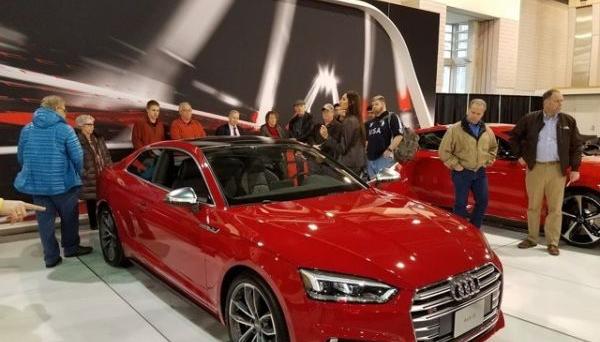 TOWAMENCIN- On Friday, May 26th during all lunch periods, the 20th annual North Penn Auto Show arrived. For the past 20 years, the North Penn Auto Club has been showcasing intricate cars owned by both students and antique car collectors in the community.
As competition for the best car, students had the opportunity to vote for all student-owned cars, unless they are exhibition, which means they are not eligible for voting.
"The auto show is a collection of cars owned by mostly students, then their family members or close friends. It's kind of a way for kids to get together and appreciate cars a little bit more. We have the Model A Ford Club, which is the older cars, so kids get to ask questions about them. We have usually every car from every decade. It's just cool and we like to see a lot of kids come out and really get to know more about cars," said Auto Club Secretary Jess Niebuhr.
Members in the North Penn community are also fascinated by the the annual auto show. Many auto-technicians and antique car enthusiasts have been coming to the auto show regularly now. Impressed by the cars owned by students and the students' knowledge on cars, many community members make an effort to volunteer at the car show to see students enjoy themselves with cars.
"This is only my third year, but I just like old cars so I come. I've been keeping old cars since about 1959. I work on cars in my free time, and I think the auto-club being offered at North Penn is a great thing," said volunteer Louis Steiskal.
Some students not part of the auto club still decided to enter their car. The show highlighted cars that students appreciate or just antique cars from community members. Many students were excited to show off their cars, even if they don't have much knowledge on the club or other cars.
"I love the auto show this year; it's really cool. There's a lot of nice cars this year that all the students are interested in. I think my truck's pretty cool, so I've always wanted it in the car show. I just enjoy cars and I'm a big truck guy too. I wish I could be part of the auto club, but I play a sport so that takes up all my time. I definitely think it's an amazing club," said NPHS Senior Brian Graber.
["source-ndtv"]