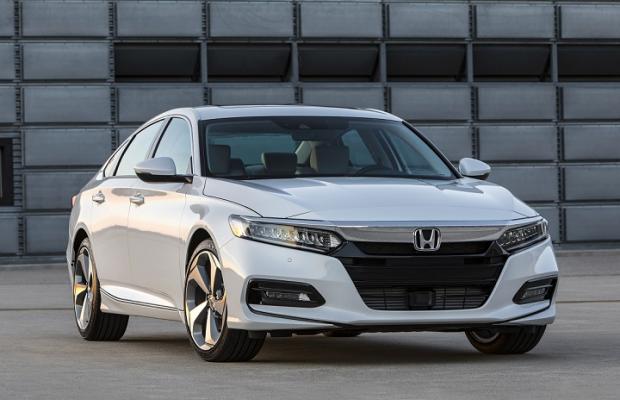 Introduction
Flashy cars like Ferraris and Lamborghinis get lots of attention. But when it comes to real influence among automobiles, you need look no further than the Honda Accord.
As unassuming and ubiquitous as they may be, midsize sedans are what have historically driven sales in the U.S. automotive marketplace, and the Accord has, for decades, served as a benchmark against which all others are measured.
Every change that Honda makes to the Accord is scrutinized, analyzed, and to a large degree, influences every one of its competitors. And when a completely redesigned version is introduced, well, the attention is even more intense.
Lately, though, every midsize sedan has been losing the American popularity contest to crossovers and SUVs. For 2018, Honda is nevertheless introducing the ninth-generation Accord, which is redesigned in every way, inside and out, to meet the needs of the modern family.
For this review, we evaluated a 2018 Honda Accord Touring equipped with no options. The price came to $36,690, including the $890 destination charge.
---
What Owners Say
Before we discuss the results of our evaluation of the new Honda Accord, it's helpful to understand who bought the previous version of this midsize car and what they liked most and least about it.
According to J.D. Power research data, Accord buyers are more often men, younger, and more affluent than the average midsize car buyer. Women comprised 36% of Accord buyers in the most recent J.D. Power U.S. Automotive Performance, Execution and Layout (APEAL) StudySM (vs. 39% for the segment). Accord buyers are, on average, 53 years old (vs. 56) and enjoy a median annual household income of $94,762 (vs. $88,919). The Accord is more popular with Gen X (those born 1965 to 1976) and Gen Y (1977 to 1994) buyers than for the segment as a whole.
In terms of vehicle ownership sentiments, Accord buyers align well with midsize car segment averages. Obviously, they are less inclined to prefer buying a car from a domestic company (37% vs. 48%). Beyond that, quality of workmanship (54% vs. 50%) and reliability (72% vs. 66%) are stronger Accord purchase drivers than they are for the segment. Accord buyers are also more likely to agree that they will pay more for an environmentally friendly vehicle (61% vs. 57%).
Buyers say their favorite things about the previous Accord were (in descending order) the exterior styling, visibility and safety, interior design, engine/transmission, and driving dynamics. Buyers indicate their least favorite things about the previous Accord were (in descending order) the seats, storage and space, climate system, fuel economy, and infotainment system.
---
What Our Expert Says
In the sections that follow, our expert provides her own assessment of how the redesigned 2018 Accord performs in each of the 10 categories that comprise the 2017 U.S. APEAL Study.
Exterior
Previous Accord buyers cited exterior styling as the favorite aspect of their car. Honda hopes to keep the flames of adoration fanned with the new Accord's rakish good looks.
Equipped with a more aerodynamic, coupe-like roofline and a more mature rear end than the Accord's little brother, the Civic, but with similar themes, Honda's midsizer is a handsome piece of work.
In terms of the front styling, my family was a bit divided. My husband thought it was extremely well done, while I was less enamored with the car's face. The domed hood harkens back to the seventh-generation Accord, and the front fascia is a bit wanting in terms of detail thanks to a gaping maw of a grille. Still, to my eyes, the Accord is much more appealing than its primary competitor, the also-redesigned 2018 Toyota Camry, which is perhaps the most relevant thing of all.
The 19-in. wheels that are standard on the Touring version are very handsome, though, and overall the car has a more stately bearing, thanks in part to the 2.1-in. increase in wheelbase (although it is 0.3 ins. shorter in length), which minimizes its unusually long rear overhang.
Interior
The new Accord's interior doesn't stray too far from a typical Japanese aesthetic, which tends toward restraint and refinement over often more gregarious American counterparts.
My test vehicle had black upholstery, which blended with the black dashboard. However, the gray headliner lightened things up a bit, and the fake wood trim that credibly mimicked the look of matte-finish, open-pore real stuff lent a premium air to the surroundings. Personally, I'd prefer the lovely cream-colored interior that provides greater visual contrast.
Materials used for the upper part of the cabin impress, with plenty of soft-touch surfaces. The further down you examine the car, though, the cheaper the materials look and feel. This is, however, not unusual in a midsize family sedan.
Seats
Buyers of the previous Accord said they found the car's seat comfort to be middle of the road. Drivers of the new 2018 version might find something to cheer about on the comfort front, but the front passenger might not.
The driver's seat will be the coveted position within the new Accord, as most versions of the car are equipped with a 12-way power-adjustable driver's seat, which helps the driver to find an ideal position. It offers plenty of thigh support, just the right amount of bolstering, and my test car included heated and front ventilated seats.
Unfortunately, the front passenger does not fare as well, because no matter how you equip the 2018 Accord, you will not be able to obtain a seat-height adjuster. This is a significant oversight on Honda's part, as the seat is mounted rather low and close to the floor.
Rear passengers enjoy generous legroom, plenty of shoulder space, and the heated outboard seats that came with my test vehicle. The rear-seat cushion provides plenty of leg support, too, but the outer bolstering caused an issue with my 7-year-old's booster seat. It forced the base of her seat toward the middle of the car, making it hard for her to access the seat belt latch. As a result, she consistently had trouble buckling up, and that regularly delayed our departures.
Climate Control System
Every 2018 Honda Accord comes with a dual-zone automatic climate control system, and its 3-knob setup is instantly familiar and intuitive. The buttons surrounding the knobs are well marked, and the system works quickly to get the cabin to your desired temperature.
At night, Honda has added a subtle visual treat when you increase or decrease the temperature. A ring around the temperature adjustment knob will glow red or blue momentarily, depending on whether you're adding heat or cooling.
All in all, this new design represents a vast improvement over the previous Accord's setup, which employed a gaggle of similarly sized buttons arranged in a lateral row.
Infotainment System
Buyers of the previous Accord said the infotainment system was their least favorite aspect of the car. No doubt, Honda's dual-screen setup, with its remotely placed controller and lack of volume and tuning knobs, was complicated and confusing to use.
Honda has heard your complaints loud and clear, and has designed a system for the new Accord that should make the vast majority of owners cheer. It's indescribably easier to use than the old system.
If you're familiar with a smartphone or a tablet, you'll know how to use the Accord's touch screen. It responds to taps, scrolls, pinches, swipes, and spreads to get to different functions and menus. There are also genuine knobs for adjusting power/volume and radio station tuning, which is just as it should be. Main menu functions are accessed through clearly marked physical shortcut buttons that flank the screen.
The infotainment itself is prettily rendered with modern graphics, and the 8-in. display screen readily responds to input. Apple CarPlay and Android Auto smartphone projection further makes it appealing to use, and a Wi-Fi hotspot is available beginning with the 2018 model year. My test vehicle also included a wireless charging pad, although curiously Honda offers USB charging ports for the rear-seat passengers only as a dealer-installed accessory.
My only real complaint about the Accord's infotainment system is that the real-time traffic feature proved hit-and-miss when it came to accuracy.
Storage and Space
Measuring 16.7 cu. ft., the new Accord features the largest trunk of any midsize sedan currently on the market. And while its gooseneck hinges and lack of a trunk handle for closing it without dirtying your hands might cause some concern, being able to carry a whole bunch of your belongings will get you into a forgiving mood.
Inside the cabin, you'll find lots of bins and places to store your belongings, most of them lined with material to keep things from jangling during the ride. The center console bin is a good size, as is the glove box, and the covered bin at the bottom of the center stack is much appreciated.
Visibility and Safety
The Accord's slim windshield pillars make the cabin feel airy, although the car's thicker rear pillars and their dramatic rake impedes the rearward view. Best to make good use of the multi-angle reversing camera and, when changing lanes, the blind-spot monitoring system.
In a very positive development, the Accord finally has a real blind-spot monitoring system, rather than the inferior Lane Watch system. It is standard for EX, EX-L, and Touring trim levels, and includes a rear cross-traffic alert function.
All 2018 Accords come with HondaSensing, a package of driver-assistance and collision-avoidance technologies that includes adaptive cruise control, forward-collision warning, lane-departure warning and lane-keeping assist, road-departure mitigation, and automatic emergency braking.
For the first time, Honda also offers a head-up display for the Accord, which I've found to be increasingly useful when it comes to keeping track of your speed without taking your eyes off the road. The one in the Accord also shows you a variety of other data, including the posted speed limit thanks to the car's standard road sign-recognition technology. Although, if there aren't any speed limit signs when you switch roads, the result is inaccurate data.
At the time of this writing, the federal government had yet to perform crash tests on the new Accord. However, the Insurance Institute for Highway Safety (IIHS) gives the car sterling ratings and a "Top Safety Pick" designation, missing out on the "TSP Plus" bonus only because of the "Acceptable" rating for its headlight performance.
Engine/Transmission
I usually prefer a V-6 to a turbocharged 4-cylinder engine. In my experience, they're usually a lot more broad-shouldered, with little penalty at the gas pump.
Given that, I was sad when I heard that the new Accord no longer offers a V-6 engine option. However, Honda's turbocharged 2.0-liter mill literally has the power to make me a convert.
Providing enough oomph to chirp the front tires every time, the turbo four smoothly and spiritedly accelerates the Accord to highway speeds. Its 252 horsepower and 273 lb.-ft. of torque is distributed evenly throughout the rev range so that there are no holes or lag, and the 10-speed automatic transmission correctly and crisply shifts every time it's called for.
I'm no fan of the Accord's new push-button transmission, however, although the downshift rev matching feature in the Sport driving mode is a nice nod to driving enthusiasts.
And, just in case you still prefer to execute your own heel-and-toe downshifts, know that you can still get a manual gearbox in the Sport trim level, and with both this engine and the Accord's standard 192-horsepower, turbocharged 1.5-liter 4-cylinder. Try finding that in any other midsize sedan, aside from the Mazda 6.
Fuel Economy
The EPA says that the Accord 2.0T should return about 26 mpg in mixed driving conditions. I got 24.5 mpg on my test loop, which falls a bit lower than expectations.
Still, this represents a vast improvement over the 2017 model's combined 21-mpg average for the V-6 engine. And because the new Accord is just as speedy, owners should be very happy with the turbo 2.0-liter's performance.
Driving Dynamics
The Honda Accord has historically earned accolades from driving enthusiasts for being as enjoyable to drive as it is to ride in. While the new Accord is relaxed and refined to ride in around town, and remains among the more composed midsize sedans when the road turns twisty, it felt a little more disconnected and floaty than I remember of previous Accords.
I can't tell if this sensation is due to the new adaptive-damping suspension, which is exclusive to and standard on Touring trim, but the 2018 Accord didn't feel as planted as last year's model. And since this is the only 2018 Accord I've driven, it remains to be seen if I might feel differently about a trim that doesn't have the adaptive suspension.
Also, it's worth mentioning that my test vehicle was a pre-production car, an early-build unit destined for destruction following its tour of duty in the press pool. This status might also account for any variances from what you might find in stock at your local dealership.
In any case, the steering is well weighted and responsive, and the brakes proved excellent.
---
Final Impressions
With few exceptions, Honda has improved the Accord in every way, addressing most of the issues that were called out by automotive writers and consumers alike. The new Accord is more sophisticated and refined, more practical and comfortable, and continues to deserve its place at the top of the family sedan heap.
Now, if Honda can only lure customers back to sedans from the siren call of crossover SUVs, all will be well again.
American Honda Motor Co. supplied the vehicle used for this 2018 Honda Accord review.
["Source-jdpower"]