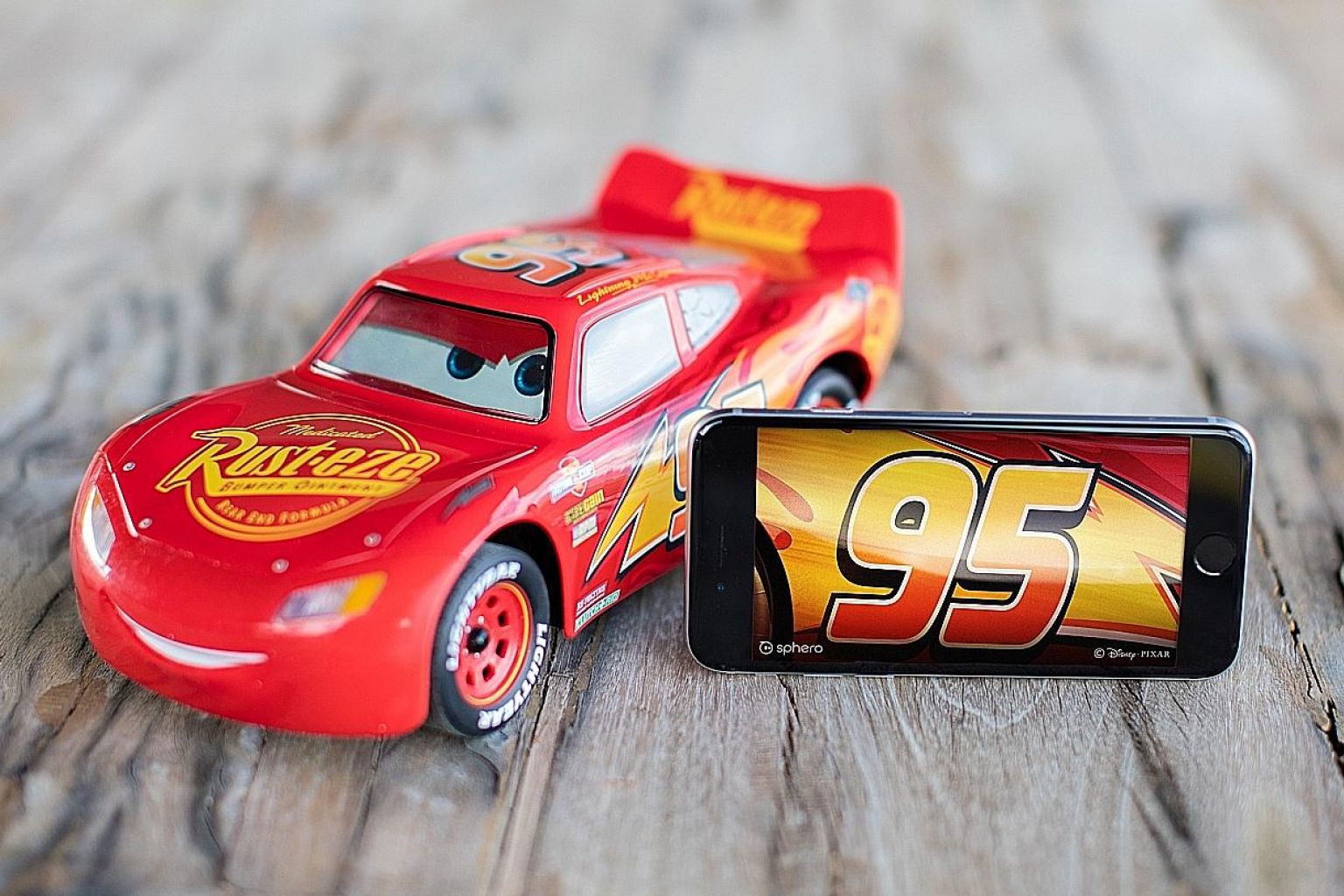 Sphero is a company renowned for making app-controlled spheres and the Star Wars BB-8 droid. The Ultimate Lightning McQueen is the company's first remote-control (RC) car.
But this is not just any RC car.
Like Lightning McQueen, the main character of Disney Pixar's Cars movie franchise, this car can gesture emotively with its tyres. It has expressive eyes and even talks.It is like watching Lightning McQueen come to life right in front of your eyes.
The life-like gestures are due to the six movement motors under its bonnet that control the tyres, suspensions, steering and the front animatronic mouth. The windscreen has a built-in LCD display that acts as Lightning's eyes.
The car is capable of spouting up to 300 phrases that are spoken by Hollywood actor Owen Wilson, who voiced the character in the movies.
While most of the car might be made of lightweight plastic (except for the mouth and tyres, which are made of rubber), the attention to details is immaculate – from the rear lights that come on upon braking, to the details on the Lightyear tyres' threads.
All the "sponsorship" decals are beautifully painted, looking like they have been thoroughly polished. No cheap peelable stickers here. Even charging the car is through connecting a power cable to the car's fuel cap, which is a nice touch.
The car is primarily controlled via Bluetooth by the Lightning McQueen app (available for Android and iOS) on your smartphone. But it also will react to your touches. It moves accordingly when tapped on the bonnet, top, boot and its side doors.
The app itself is packed with features. There is the main control panel where you move the car via an accelerator and a reverse gear. There is also a button that instructs Lightning to do "donuts" or drifting in a figure of eight.
It is not easy driving Lightning with the app and it will take some time to get used to it. But, once you master it, it becomes really fun. Lightning will even quip "Did you see that?" after doing several "donuts".
Other options in the app include a Pit Stop game, where you tap and match items such as tyres or engine oil to a racing car which needs them. Along the way, you will hear Lightning making encouraging comments.
Then, there is a "movie-making" feature. You can string together different phrases and sound effects from the app in a certain sequence, save it as a script and play it. Lightning will then say those phrases and perform actions according to the script.
Still, I find driving it around to be the most satisfying.
Its range is supposed to be up to 30m. But there are times when I lost connection with Lightning at around 15m.
Battery life is estimated at a minimum of 40min. But in my tests that involved several "donuts", speeding (and crashing) the car in my house, one round of Pit Stop game and making some "movies", it lasted for around 30min.
The only gripe I have is the price. No doubt it is very well-made with plenty of nice features. But $469 is still a lot of money for what is essentially a remote-control car – especially so, if you are buying it for young children.
• Verdict: With its superb build and fun play, Sphero's Ultimate Lightning McQueen is really the ultimate app-controlled RC car that money can buy – if you can afford it.
Source:-.straitstimes.