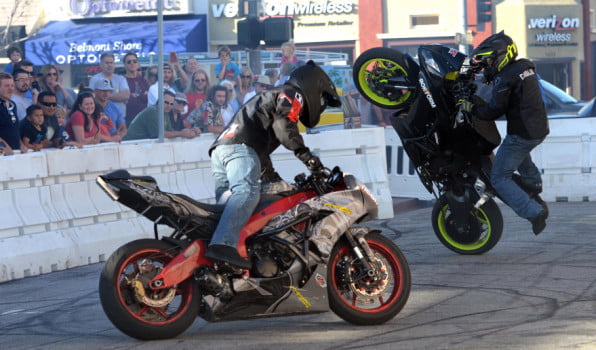 Motorcycle and stunt drivers Webster Whinnery,left, and Tony Carbajal, perform during the Roar in the Shore, in Belmont Shore. Hosted by the Belmont Shore Business Association, race fans experienced interactive activities including different race cars on display. Long Beach, Wednesday, April 5, 2017. ( Photo by Stephen Carr / Press-Telegram / SCNG )
The Toyota Grand Prix of Long Beach is around the corner, but not before some noise is made in Belmont Shore.
The seventh annual Roar in the Shore will ride through Second Street Wednesday, and Long Beachers can expect all of the free family-friendly events they've seen in recent years.
"Roar in the Shore is a great way for families to come out and get excited for this years Grand Prix," Eric Johnson, Belmont Shore Business Association board member and co-owner of Legends Restaurant and Sports Bar, said. "It's loud and it's a just a good time."
In roaring fashion, the event will feature a display of exotic cars, as well as race cars. Guests can view the vehicles — and if they're available, chat with the drivers.
"At about 6 or 6:30 p.m., fans can get close to the teams and have a Q&A session with some of the drivers," Johnson said. "If you're really into racing, it's a chance to meet someone in the game."
But for guests who aren't racing fans, there's still plenty of opportunity to have an enjoyable evening.
At 5:30, 6:30 and 7 p.m, Tony Carbajal and his team will perform their sport bike freestyle show. Guests can watch as the motorcycle tricksters pop wheelies and maneuver their bikes in a dangerous-looking display of control. Autograph sessions also will be available in between shows.
For people who want to experience what it's like to sit inside of a race car, there will be drawings from 6 to 8 p.m. to cruise Second Street in a two-seater Indy car.
Another addition is the racing simulator games in the "Family Zone." Guests can experience what it's like to drive a race car with a little help from video game magic.
Additionally, patrons visiting the Shore earlier in the day (from 2 to 6 p.m.) can visit Legends where iHeartRadio's Petros and Money Show will be broadcasting and speaking with fans.
And of course, the restaurants and shops along Second Street will be open for business. Long Beachers and guests can grab a bite to eat, or participate in a little window shopping in between activities.
"There's going to be a lot do in the Shore on Wednesday," Johnson said. "It's a great way to get out and do something with the family on a weeknight."
Roar in the Shore is happening from 5 to 8 p.m. on Wednesday, April 11, on Second Street between Corona Avenue and Covina Avenue. Corona and Covina both will be closed to the alley for the event.
For more information, go to belmontshore.org/event/roar-in-the-shore.
["Source-presstelegram"]