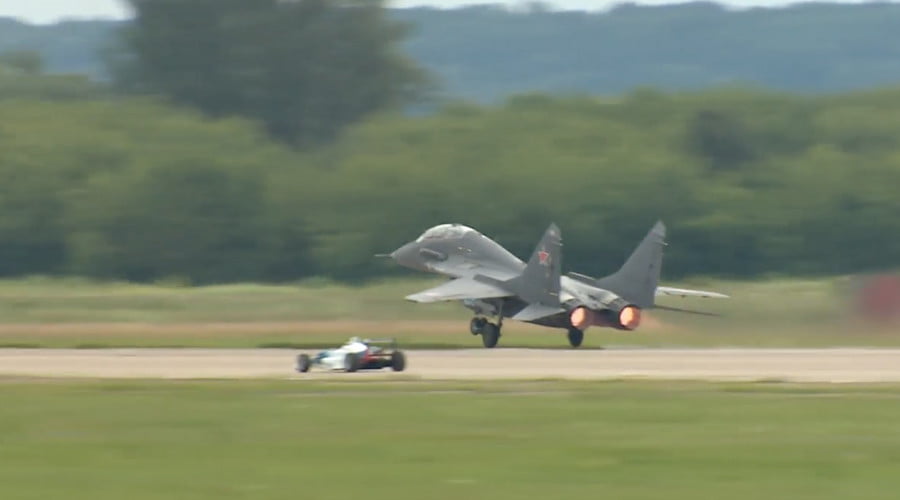 Planes meet sport cars on the second day of races at the MAKS 2017 Air Show outside Moscow. The two-day competition resulted in a 6-6 tie.
The Festival of Speed event has concluded at Zhukovsky Airfield outside Moscow on the final day of the MAKS 2017 Air Show.
READ MORE: Racing cars challenge planes at MAKS 2017 (VIDEO, PHOTOS)
Earlier on Saturday, a MiG-29UB fighter jet, Yak-54 trainer plane, and Extra EA-300L aerobatic plane met their ground vehicle competitors to determine which vehicles were the fastest. The event was sponsored by Audi, which provided the majority of the sports cars for the race.
The competitors raced 3,000 meters on a runway, making a U-turn in the middle of the course. Over the two days, twelve races were held, with each plane participating in four.
The first day of the competition resulted in a 3-3 tie. During the race, the MiG-29UB was disqualified, which might have affected the outcome. The second day of races also resulted in a tie with the same score. This time an Extra EA-300L and an Audi car were disqualified, adding a lot of drama to the challenge.
The first competition between race cars and planes took place at Zhukovsky Airfield during the Oboronexpo international weapons expo and forum in 2014. The speed challenge was a hit with the spectators and was incorporated into the MAKS Air Show the following year, becoming part of the biennial event.
[Source:-rt.]