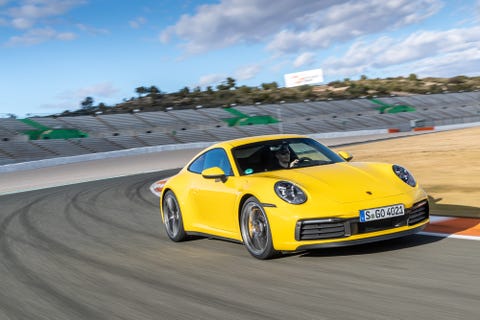 I am a lucky dawg. Sure, there were some crossover utility vehicles, a few mass-market sedans and even a minivan or two. But for the most part, 2019 was filled to the brim with supercars and sports cars. Here are my favorites, in chronological order.
Jan. 17, 2019 Valencia, Spain, 2020 Porsche 992 911—I am a sucker for 911s. It was the first truly great sports car I ever drove, way back in the late 1980s when I was living in Germany, and I loved it—so precise, so pure and just the right amount of powerful. The 2020 model is the eighth 911, tracing its roots all the way back to the car that replaced the 356. It has the same basic proportions and shape as all the 911s before it, but it is faster and more efficient than any of them except the GT2s, GT3s, etc. You can get eight 911 models right now, ranging from the 379-hp 911 Carrera for $97,400 up to the 443-hp 911 Carrera 4S Cabriolet for $133,400.
I drove a Carrera S coupe on the Circuit Ricardo Tormo outside Valencia, Spain, then in the mountains northwest of the track. I cranked the little round knob on the steering wheel over to sport plus, hammered the throttle and … oh man, this is why so many people love 911s. The 443 hp was just the right dose of excess, and the torque climbed evenly from 1,500 rpm to 6,500 in full service to humanity. On the track, it held on fast through all 14 corners. Long gone are the days you had to fear the specter of lift-throttle oversteer, of the rear end of your 911 suddenly becoming the front end. Only hints of understeer flitted by as I drove as fast as I could to make the most of the limited laps we got. The 911 remains a sure bet for anyone who wants a great sports car … and has a hundred grand to buy one.
Feb. 19, Thermal, California, BMWs galore—BMW and Porsche are the two performance icons I fell in love with in the late '80s when I lived in Germany. Both companies were very generous with their press cars and I drove as many of them as I could get my hands on. Thus, like Porsche, I have a similar soft spot for cars of the Bayerich Motoren Werke AG. So, I was happy to go to BMW's annual Test Fest at The Thermal Club in the desert east of Palm Springs, an event designed to let journalists drive all kinds of Bimmers on track and on the street in a single day. Problem was, this year's test fest was held in a Noahic deluge that had animals lining up 2×2 looking for an ark. No worries, BMW said, Haben zee eine gut zeit. Und I did.
I started out lapping an autocross course in a $32,895 228-hp John Cooper Works Mini Cooper. It was a blast, despite the rain and the front-wheel drive. Then I progressed to The Thermal Club's South Palm Circuit, where I followed the great Bill Auberlin in: a $57,990 382-hp M340iX, $104,095 454-hp M4 CS Coupe, and a $112,895 M850 xDrive Coupe, in that order. On each drive, the rain poured from the skies and roared across the track. It wasn't so much driving as boating. What did I learn? In the terrible, terrible rain, xDrive is your friend. The M340iX was as stable as the German deutsch mark in the wet. The M4 CS Coupe, meanwhile, required real skill to go at all fast in that amount of rain. And the M850 xDrive was the car I would most want to own if I lived in Portland or Seattle or anywhere weather is a regular part of driving. I did not get to drive my favorite BMW from the current lineup, the M2 Competition Coupe. But my favorite BMW of all time is the E30 M3, or maybe it's the E46. I also like the 318ti. In any case, I'm hoping the next Test Fest is held in the dry. Just for comparison's sake.
March 4, Angeles Crest Highway McLaren 570S—I know it's going to sound as if I like everything I drive, but I really do love McLarens. Man oh man. I have driven almost all of them—the street cars, anyway—starting with the MP4-12C in 2011 and going all the way up to the Senna. Every one of them has offered a connection with the road that you won't feel in anything else, as if you're sitting on the front axle with a tie rod in each hand. The 570S is the entry-level McLaren, as if $195,000 could be considered entry level. Ha! But for that, you get 562 hp pushing around 3,212 pounds of McLaren and there's nothing else like it.
April 16, Mojave Desert, Jensen Button's Trophy Truck—Jensen Button may be the nicest Formula 1 world champion ever, and not just because he let me drive his Trophy Truck. Technically it's a Class 6100, Spec Trophy Truck, one class below full Trophy Truck, so it costs less than a million dollars. But they're still pretty dang impressive. This one was built by Brenthel Industries in Murrieta, Calif. While it's lighter and slightly smaller than a full-on Trophy Truck, with a 425-hp LS3 V8 but still loads of suspension travel, it's by no means foolproof. Button gave me some advice:
"At full speed, when you're actually pushing it, it just comes alive and it floats—that feeling when you get up on the plane and it floats, like on a boat, I guess—and when you get it right, it's so cool."
Indeed, just like all those videos you can watch on the internet, at somewhere less than 100 mph, the truck rose up above the whoop-de-doos and floated, like a speedboat. But as Button also said, "It never goes straight." And to keep it straight—and upright—you have to anticipate every one of the 4 million bumps, holes and ruts you're going to fly over. To get everything right is to meld that anticipation into just the right speed and just the right throttle position so that it does, indeed, "float" along on top of everything. If you get it wrong, you cartwheel across the desert, thanking the gods of HANS the whole way and figuring out how you're going to pay for those parts you see flying off into the tumbleweeds. I got it more or less right, but at a slower speed than Jensen.
July 9, Scotland, Porsche 718 Cayman GT4—Back to Porsche, and I say: Welcome back. The 718 is a perfectly wonderful sports car, but the 718 Cayman GT4 is just the right amount more wonderful. Even in the pouring rain and driving on the wrong side of the world's most narrow roads in the rolling green hills of rainy Scotland, I confess I loved it. The 414 hp naturally aspirated flat-six with—gasp!—a six-speed manual made it like your favorite sports car from back in the days of manual transmissions when engine output didn't overpower everything in its path but rather balanced perfectly with the chassis for a delightful driving experience. The front axle comes from the 991.2 GT3 and most of the rest of the suspension is adjustable for track days. I drove it around a slightly bumpy, diving, twirling track called Knockhill Racing Circuit so far out in the moors I was looking for werewolves. The only thing that wound up scaring me, though, was the $100,550 sticker.
July 27, Hwy. 33 above Ojai, Calif., Lotus Evora GT—Lotus should be a major player in the sports and supercar world, but for some reason, it's not. It has all the necessary accoutrement, from F1 world championships to superb road cars that handle like the best of anything in the world. It should be the British Ferrari. Yet there it sits, still producing cars, still in business, but lacking bazillions in profits and always teetering on the brink of insolvency, only to be saved one more time by yet another investor convinced that this time they'll really get it figured out. All the while, it makes cars that are every bit as cool to look at and as fun to drive as the best of the competition.
But rather than try to solve all of Lotus' problems in two paragraphs, I just drove one of them, the Evora GT, at great speed, and on terrific roads. Lotus told us the Evora GT was the fastest and most powerful road-going Lotus sold in the U.S., with a top speed of 188 mph and a 0-60 (naught to 60) time of 3.8 seconds. The supercharged 3.5-liter V6 makes 416 SAE hp to haul around 3,104 pounds of car. I drove it up and over Highway 33 north of the mountain burg of Ojai, Calif., with giant California Condors circling overhead. The mighty Michelin Pilot Sport Cup 2 tires, Eibach springs and Bilstein shocks combined beautifully to slot the Evora GT through every one of the God-knows-how-many corners there were up there. Balance was perfect, power was powerful and the entire experience made me wish Lotus cars were far more ubiquitous than they are today. But that rarity might just add to their appeal for the true fans of the marque. Wouldn't want to see them on every street corner now, would we?
July 24, Ortega Highway, California Lamborghini Huracan EVO Spyder—I still recall reading a copy of Road & Track in high school about whatever iteration of Countach was out then and seeing the spec for top speed: 202 mph. Sure, I later learned that no Countach ever made actually went 202 mph, except maybe Al Burtoni's highly modified Bonneville Countach, but it didn't matter—the fantasy had been set. I didn't get into the Lamborghini press pool rotation until the Diablo era, and the Diablo probably couldn't break 200 mph either. That also didn't matter. In fact, it wasn't until the new Huracan came out in 2014 that a Lamborghini could actually handle worth a damn, and now each one just gets better.
The Huracan EVO Spyder is just one of several Lamborghinis that offer new levels of performance, handling and succulent beauty. I got into one in Laguna Beach and immediately headed east up and over the (in)famous Ortega Highway, local curvy road mecca for sports cars, bikers and about 4 and a half million commuters a day. With some savvy, I was able to line up a few stretches with no one on them and opened 'er up. With 631 SAE hp going to all four wheels, the Huracan pushes and pulls you through any corner you throw it in. The feedback isn't quite as immediate and precise as that offered by McLaren and Ferrari rivals, but it's close and it outpowers those cars on the straights. Top down you can hear each and every one of the car's 40 valves opening and closing in Italian staccato rhythm. Mash the gas, mash the brakes, turn, ease onto the gas, repeat. And it is all wrapped in a body so perfectly sensuous that some people will love you and others will cry out in jealous anguish. What more could you want?
Aug. 8, San Francisco, California Lincoln Corsair luxury crossover utility vehicle—Ha ha, just kidding!
Sept. 9, Ortega Highway, Vuhl Roadster—Take a powerful four-cylinder from a front-wheel drive car and put the whole thing in the back of a roadster body. Voila, you have a Vuhl. Mexican brothers Iker and Guillermo Echeverria took a 2.3-liter turbocharged Ford Ecotec four-cylinder with a Ford manual six-speed transmission and dropped it into the back of an aluminum tub of their own design then wrapped it in a carbon-fiber body and there you go: the perfect balance of power and performance. The Ford drivetrain keeps the overall price down to "only" $115,000 to start, and it tops out at $150,000. For that dough, you don't get a lot of sound insulation, seat cushion or even a windshield, any of which would add weight above this roadster's 1,350-pound claimed curb weight, but that's the price of performance. The Vuhl is raw and beastly, but it can be a lot of fun if you wear a helmet with a face shield. I would say this is a track car, not a street car, though you're supposed to be able to register it for the street, in some states, maybe. Who knows? Who cares? It's fun!
Sept. 13, Fiorano, Italy, Ferrari F8 Tributo—Ah, Fiorano! Niente a confronto! Sure, you have your various other supercars, your V12-powered whatever, but nothing matches the mystique of Ferrari. The former cow town of Maranello has now been taken over by "exotic car" rental agencies, shops selling prancing horse trinkets and tchotchkes, and restaurants all claiming to be "Schuey's favorite." There are tourists everywhere. And off in the distance, the distinct yellow script over the factory that reads simply, "Ferrari." To be invited here, not just to visit but to drive on the hallowed ground of the Fiorano test track, is a little like visiting the Vatican to try your hand at delivering a homily. You'll never be as good as those who came before you, but it sure is nice giving it a try.
I got five laps around the storied circuit in the new F8 Tributo, successor to the 488GTB. Improvements throughout the V8 give it 710 hp, lightening advances everywhere else shave its weight down to 3,124 pounds. The result is the smoothest, most powerful V8-powered Ferrari ever made. The balance is perfect, the power unmatched in its smooth delivery, even the interior is comfortable. To complain that the F8 costs $239,480 is simply to miss the point.
Nov. 8, Angeles Crest Highway, Ducati Monster 1200—Another Italian! Ducati celebrated the 25th anniversary of the Monster just last year, and what a run it's been. Since Miguel Galluci designed the first one in 1993, the line has represented some of the most minimalist and yet appropriately powerful motorcycles ever built. Ducati pioneered the "naked bike" style with with the Monster, a motorcycle with no fairings or windshield, leaving just the bare-bones basic bike. I first rode one a couple years ago, a yellow 821 that was so pure in its simplicity and yet so sensuously shaped that I considered just parking it on the mantlepiece and looking at it all day. Instead, I rode it and enjoyed every minute of it. It is a more upright, comfortable motorcycle than a pure sport bike. The handlebars are up in the air to be grasped from a sitting upright position instead of down low like a pair of clip-on grips. The power and torque are accessible down low on the tach, you don't have to wind the engine out to get to the power. And the whole thing is as much comfortable daily rider as sporty sport bike. It felt nicely tailored to my 6'1" frame.
The most recent Monster I rode was a 1200, which offers a remarkable 147 hp, 91 lb-ft of torque on a bike that weighs just 412 pounds. Of the two, I think I actually prefer the 821, with its 109 hp, 63 lb-ft and lighter 398 pound curb weight, and not just because at $11,995 it's three grand cheaper than the 1200. It's bare and it's beautiful. Che gioia guidare!
["source=autoweek"]