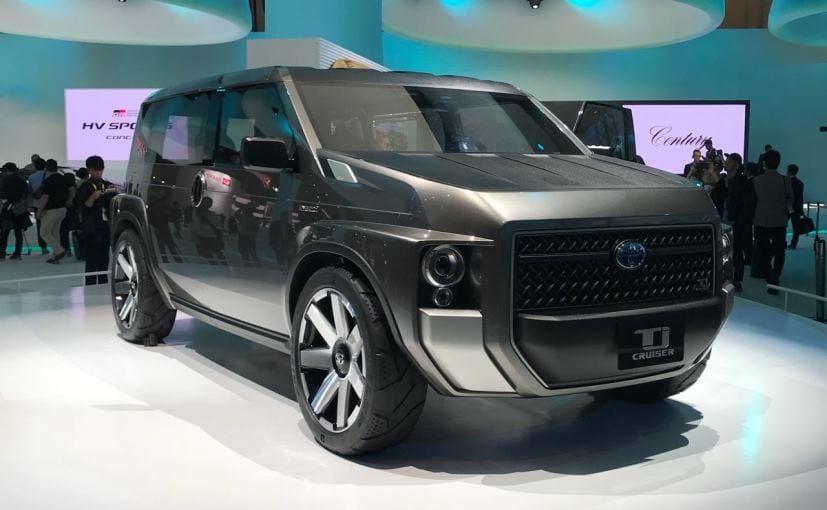 Toyota showcased a range of concepts at this year's Tokyo Motor Show. Right from autonomous Concept-i series to the hybrid sports car GR-HV, Toyota's stall was filled with some very interesting concept cars. One among them was the new Toyota Tj Cruiser, which, going by the company's claim, is a proper amalgamation of the roomy cargo van and the powerful styling and design of an SUV.
A utilitarian vehicle built for those who have an active lifestyle the new Tj Cruiser concept comes with bold SUV-like styling along with a cabin with toppling seats that could fit long items like a surfboard or a couple of bicycles and more. Sharing the etymology of the name, Toyota said that the "T" in Tj CRUISER stands for "Toolbox" in reference to how the car can be used like a toolbox, while the "j" stands for "joy" in reference to the joy of visiting various places by car. Thanks to its squarish shape offer space and accessibility similar to a cargo van, while the bold design, sturdy suspension, and massive tires make it a tough-looking SUV. Also, the hood, roof, and fenders are made of a material that comes with a special coating that can resist scratches and dirt.
While normally it is a four seater, the front and rear passenger seats can be reclined completely flat to create a massive space and there are numerous tie-down points to enable easy anchoring of items from small packages to longer objects. Also, the large opening of the tailgate makes for easy loading and unloading of large items such as bikes. The Tj Cruiser comes with large sliding doors on both sides, which apart from offering easy entry and exit for passengers, is also suitable for loading and unloading large items.
Toyota hasn't revealed a lost about the technical stuff but has hinted that vehicle could be based on the next-generation TNGA platform and will come with both front-wheel-drive and all-wheel-drive system. The vehicle will come with a 2-litre class engine combined with Toyota's hybrid system.
["source=auto.ndtv"]