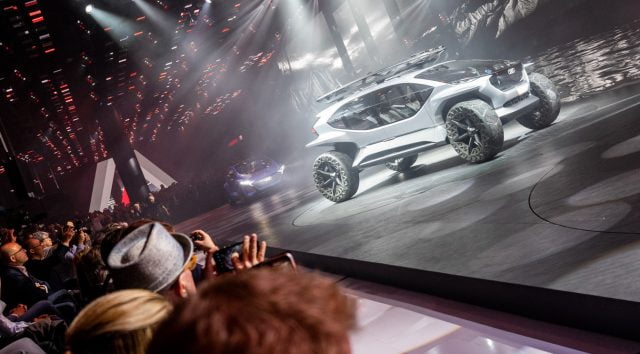 It's a pity the world's most important auto show is only held every other year. The Frankfurt Motor Show 2019 — IAA, or Internationale Automobil-Ausstellung (International Auto Show) to the locals — had a laser focus on the future. In particular, all-out electrification, and the stepping-stones: hybrids, 48-volt hybrids, plug-in hybrids.
How big is the Frankfurt auto show? It's CES times two. Messe Frankfurt comprises 12 buildings and 400,000 square meters of exhibition space, or 4.3 million square feet, equal to 75 football fields and end zones. The again-expanded Las Vegas Convention Center is now up to 2 million square feet of exhibit space. Here's our take on the most important vehicles of this show of shows.
Yes, there are a lot of electrified cars in the slideshow. It's not because we're Tesla-Rivian-Leaf-Bolt EV-worshipping robots. It's because that's where the world, give or take the US, is headed: toward electrified vehicles with 2-3 times the energy efficiency as gasoline or diesel burned in a combustion engine.
Volkswagen, for instance, has said its last new internal combustion engine design will come out circa 2026. That doesn't mean Vee-Dub is all-electric in 2027. Rather it means VW will drive into the future with existing combustion engines, and refinements, but no new engines. Recall that GM got half a century out of the small block Chevy V8 engine, 1954-2003.
["source=extremetech"]