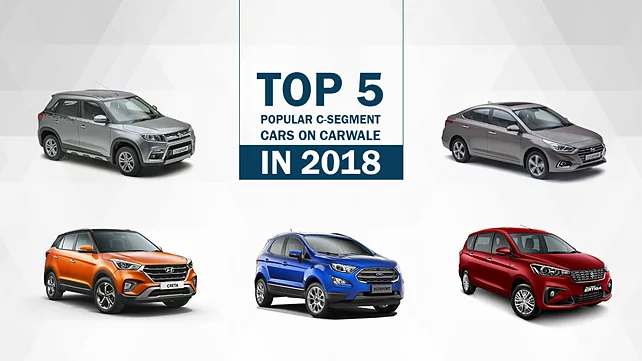 We are standing in the heart of the budget SUV push in India. A segment that was once the main stay of sedans and hatchbacks is today dominated by high riding vehicles in the form of compact SUVs. In fact, the two top cars that are the leaders in the volumes game exist in this part of the market. Given how B-segment cars have now become the new entry point for buyers, this has become the next step up for many existing buyers.
5. Maruti Suzuki Ertiga- 7.3 lakh enquiries
We begin with one of the older players in the segment. It's been around for a while and is a constant source of numbers for the Indo-Japanese automaker despite the body style losing popularity. Part of the reason why the Ertiga has made it to the list is due to the fact that it recently underwent a generational change just a short while ago leading to renewed interest in the vehicle.
4. Ford EcoSport- 9 lakh enquiries
Next up on the list is the Ford EcoSport. Despite it being around for a year, the Ford EcoSport is still the American automaker's major money spinner. Its continued popularity, we feel, is down to it being one of the major players in the segment as well as people wanting to see how it stands up to the competition.

3. Hyundai Creta- 10.35 lakh enquiries
The sedan killer could be the best term for the Creta. It came, saw and completely conquered and the proof is in the pudding- 10.35 lakh enquires. There was a facelift earlier this year and with the update, the numbers have gone up quite a bit. The possibility of a small SUV being successful has prompted manufacturers like Nissan, Kia and even Jeep to field future models in this part of the market.

2. Hyundai Verna- 12.43 lakh enquiries
In a sea of SUVs, the Hyundai Verna stands out for being a sedan. It covers a wide range of engine and feature options and even sits above the Honda City, which has been one of the oldest players in the segment. We've had the car as a long termer and it's proved its ability quite well.

1.   Maruti Vitara Brezza- 15.51 lakh enquiries
Topping out our list is the Maruti Vitara Brezza. It's a compact SUV and despite being around for almost 3 years now, there seems to be no let down in interest for the car. The SUV did get an update in the form of new colours as well as an AMT option. The package is quite solid and all things considered, the Brezza works on the strength of the Maruti badge.
["source-cnbc"]